Hollywood writers' strike set to come to an end after five months
The Hollywood writers' strike began on May 2
Hollywood's five-month-long writers' strike is set to come to an end after a deal was forged – but actors remain on the picket lines despite the looming breakthrough.
The 146-day strike looks likely to end following a deal between the Writers Guild of America and Hollywood studios, which the union described as "exceptional".
Tens of thousands of actors, however, are still out on strike, with no talks scheduled imminently. It means the vast majority of productions will not be able to re-start. Only those which do not have actors, such as talk shows, will go ahead.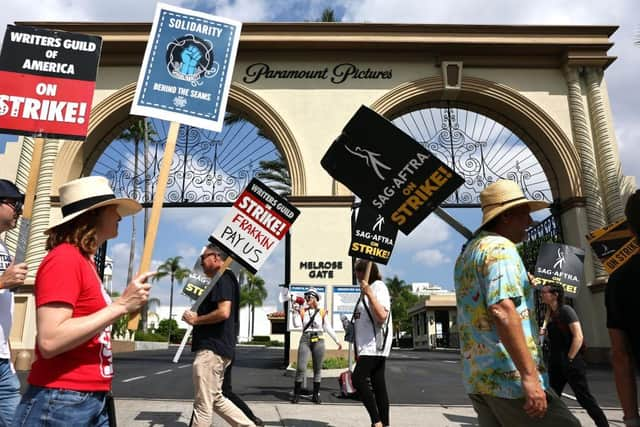 In the coming days, union members will vote on whether to accept the deal. However, it contains much of what they had demanded, suggesting most will be likely to approve. The deal includes increases in compensation for streaming content, concessions from studios on minimum staffing for television shows, and guarantees that artificial intelligence technology will not encroach on writers' credits and compensation.
The strike, which began on May 2, essentially shut down Hollywood. The union called for tenable working conditions for all members after thousands of screenwriters said they were being unfairly paid in the age of streaming.
Reports in industry media said staff on late-night talk shows could return to work as soon as Tuesday following the announcement, adding broadcasts could resume as soon as October.
The Writers Guild's negotiating committee said in an email to members: "We can say, with great pride, that this deal is exceptional, with meaningful gains and protections for writers in every sector of the membership."
The organisation said it was suspending picketing with immediate effect, but stressed the details had not yet been finalised.
"What remains now is for our staff to make sure everything we have agreed to is codified in final contract language," the union said. "And though we are eager to share the details of what has been achieved with you, we cannot do that until the last 'i' is dotted."
The strikes have had a direct impact on the UK's entertainment industry. Three quarters of film and TV workers in the UK had been left out of work, according to a recent survey conducted by the Broadcasting, Entertainment, Communications and Theatre Union. Filming on British shores of productions such as Deadpool 3, Wicked and part two of Mission: Impossible – Dead Reckoning had also stopped.
The British writers guild sent congratulations to its "sister union" on reaching a tentative deal.
The Writers' Guild Of Great Britain [WGGB] chairwoman Lisa Holdsworth said: "We've seen an extraordinary show of solidarity from writers and their union siblings on both sides of the Atlantic, and indeed around the world.
"We've been overwhelmed by the response of our own membership in standing with their striking colleagues overseas – you have followed the WGA strike rules to the letter, turned out to the WGGB protest in London in the summer and sent a tsunami of support on social media.
"Some of you have even joined picket lines in the States. Your solidarity has counted and your voice has been heard."
US comedian, writer and TV presenter Adam Conover, who wrote and starred in The G Word on Netflix, tweeted: "We did it. We have a tentative deal."
Comments
 0 comments
Want to join the conversation? Please or to comment on this article.