Former French president Nicolas Sarkozy under fire for Ukraine comments
Nicolas Sarkozy was president of France from 2007 to 2012
He is a controversial former president with a string of corruption trials to his name.
Now Nicolas Sarkozy has come under fire after claiming Ukraine should remain "neutral" – and not take NATO or European Union membership – and insisting Russian president Vladimir Putin is "not irrational".
In interviews with French media around the launch of the third volume of his autobiography, Mr Sarkozy, who is married to French singer Carla Bruni, said he had spoken to Mr Putin many times during his time as president.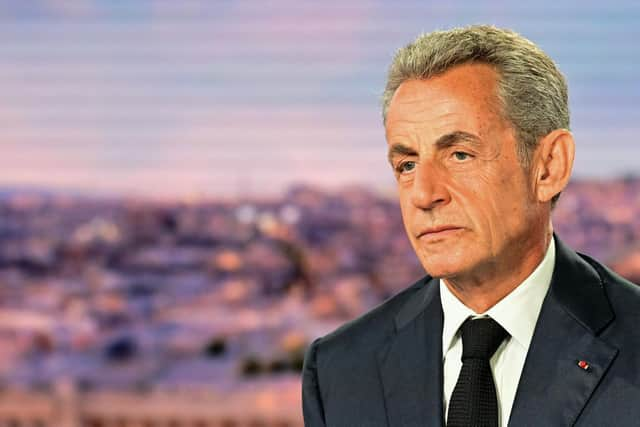 "People tell me Vladimir Putin isn't the same man that I met," he told Le Figaro. "I don't find that convincing. I've had tens of conversations with him. He is not irrational. European interests aren't aligned with American interests this time."
In a separate interview with French television, he said reversing Russia's annexation of Crimea was "illusory," and insisted Russia and France "need each other".
This comes as France's financial crimes prosecutor's office said last week Mr Sarkozy will stand trial in 2025 on charges of corruption and receiving illegal campaign funding from Libyan government for his campaign in the 2007 presidential elections.
Mr Sarkozy, who won the 2007 election, has denied the accusations.
In the third volume of his memoirs, Le Temps des Combats ("The Time of Battles"), which covers the years 2009-11 and was published last week, Mr Sarkozy said France was wrong to deliver "weapons in a continuous flow to one of the belligerents", and criticises the "advantageous posturing" of those calling for support for Ukraine "to the very end".
"Is it reasonable to wage war without actually waging it, and to wage a conflict without ever bothering to specify the goals and objectives we're trying to achieve?" he asked.
Vadym Omelchenko, the Ukrainian ambassador to France, branded Mr Sarkozy's comments "not acceptable".
"I would not be surprised if the Prosecutor General of Ukraine is interested in the comments made to see if there are elements of a crime," he said, adding Mr Sarkozy's role as president of France during the Russia-Georgia conflict of 2008 had "resulted in Georgia losing 30 per cent of its territory".
Nicola Bacharan, a political scientist at Paris university Sciences Po, said the former president's comments were "shocking".
"Gaullist equidistance between the United States and Russia is an old story, but what Sarkozy said was shocking," Ms Bacharan said. "We are at war and democracies stand with Ukraine, while the autocracies of the world are with Mr Putin."
Mr Sarkozy has been subject to a number of corruption trials since he left office.
One, in 2020, dealt with allegations that he bribed a judge with a retirement package in return for information on an investigation into alleged campaign finance violations.
Meanwhile, in 2021, the politician, who was president from 2007 to 2012, was convicted for having tried to illegally obtain information from a senior magistrate in 2014 about a legal action in which he was involved.
Earlier this year, he lost an appeal for a one-year prison sentence, which he was told he was allowed to serve at home with an electronic bracelet. The court also banned him from holding public office for three years.
Comments
 0 comments
Want to join the conversation? Please or to comment on this article.