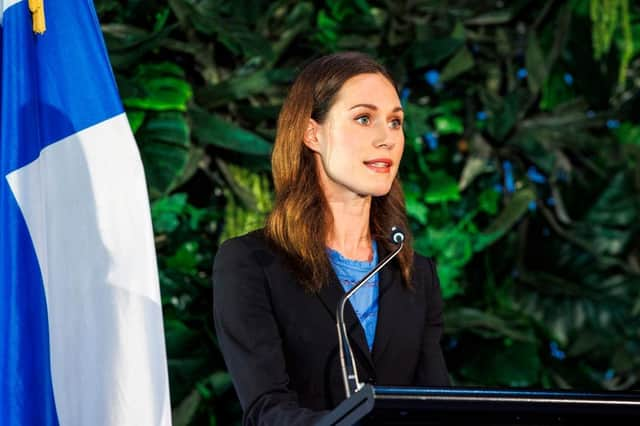 Finland, which has a 832-mile border with Russia, applied to join the alliance, alongside Sweden, last May, following Russia's invasion of Ukraine. Support for joining Nato rocketed following the invasion, from one-third of Finns to almost 80 per cent.
One of Nato's founding principles is the principle of collective defence - meaning an attack on one member nation is treated as an attack on them all.
Russia has previously condemned Finland's application. In 2016, president Vladimir Putin said: "When we look across the border now, we see a Finn on the other side. If Finland joins Nato, we will see an enemy."
Earlier this week, the Russian embassy in Sweden laid out the government's opinion on possible membership of both Sweden and Finland.
"If anyone still believes that this will somehow improve Europe's security, you can be sure that the new members of the hostile bloc will become a legitimate target for Russia's retaliatory measures, including military ones," it said on Twitter.
Sweden's application is still blocked by Turkey, which claims it is harbouring what it considers members of terrorist groups, after it allowed Kurdish militants to demonstrate in Stockholm, as well as Hungary. It said, however that Finland had taken "authentic and concrete steps" on Turkish security.
In an analysis published on website War on the Rocks, Finnish former diplomat Heli Hautala and Nicholas Lokker - a researcher in the Transatlantic Security Program at the Center for a New American Security – warned that Nato's forthcoming enlargement will "permanently alter the European security architecture and erode Russia's geopolitical position".
They said: "Moscow will see these changes as a threat to its security and is likely to respond in ways that will pose challenges to NATO in both the short and long term."
They pointed to previous comments by defence minister, Sergei Shoigu, suggesting that Russia would be likely to position troops on its border with Finland – as well as taking other retaliatory measures.
They said: "Given its ongoing need to focus on the war against Ukraine, as evidenced by recent reports that it is shifting troops from other theatres, including from areas near Finland, Moscow will for the time being likely rely on grey zone tactics to undermine Nato's position in the Nordic-Baltic-Arctic region.
"Recent events suggest these may include attacks on critical infrastructure such as pipelines, undersea cables, or oil and gas fields, as well as acts of terrorism against Western officials."
Finland held an officially neutral stance with Russia during the Cold War, following an invasion of Finland by Moscow in 1939, and a resulting concession of territory. However, following the collapse of the Soviet Union, it joined the European Union.
Nato Secretary General Jens Stoltenberg said on Twitter: "I look forward to raising Finland's flag at Nato HQ in the coming days. Together we are stronger and safer."
Finnish Prime Minister Sanna Marin said: "As allies, we will give and receive security. We will defend each other. Finland stands with Sweden now and in the future and supports its application."