Doug Emhoff: who is the husband of US vice president Kamala Harris - and first White House second gentleman?
Emhoff has been a supportive husband as his wife and Joe Biden take office in the White House
Kamala Harris has already etched her name in history as the first female, black and Indian-American vice president.
Her husband, Doug Emhoff, is no stranger to the public spotlight either, having frequently joined his wife on the campaign trail.
But who is America's 'First Second Gentleman'?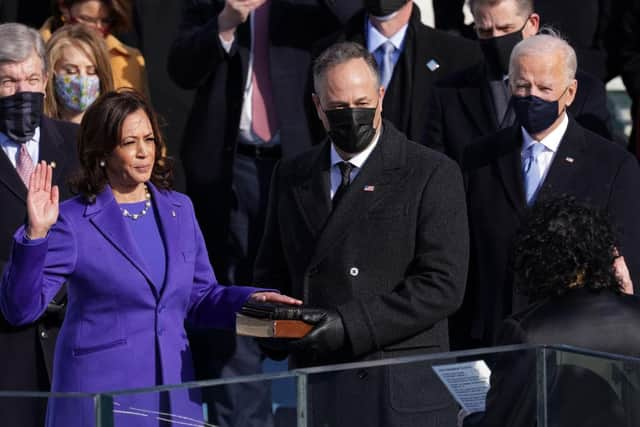 An entertainments lawyer, Emhoff will not only be America's first 'Second Gentleman' but he will also be the first Jewish spouse of either a president or vice president.
In August 2020 he announced he would take a leave of absence from his job at a law firm, where he was a partner, to help work on the Biden-Harris election campaign trail.
Following their win, Emhoff left his role at DLA Piper to avoid any conflict of interest concerns prior to Inauguration Day on 20 January 2021, which saw Joe Biden and Harris sworn in.
Emhoff wasn't out of work for long, though, as he took up a post at the Georgetown University Law Centre as a distinguished visitor and fellow of the school's Institute for Technology Law and Policy.
Born in Brooklyn, New York, on 13 October 1964, he spent a lot of his childhood in New Jersey before his family moved to California when he was 17 years old.
He graduated Agoura High School and earned a Bachelor of Arts degree from California State University before attending USC Gould School of Law, leaving in 1990 with a Juris Doctor.
How did Doug Emhoff meet Kamala Harris?
He is a proud supporter of his wife, uploading many posts on Twitter via @DouglasEmhoff with the bio "Devoted dad. Proud husband to Kamala Harris. Advocate for justice and equality."
Ahead of the inauguration, Emhoff posted on Twitter via his account: "As tomorrow approaches and I prepare to take on the role of @SecondGentleman, I have a growing sense of responsibility. But I know we wouldn't be here without the support of so many - family, friends, and beyond. Thank you for being in our corner as we take on this next chapter."
He has created a @SecondGentleman account on the social media site where it is expected he will continue promoting the work of the Biden-Harris administration.
Though not a political role, he is expected to appear alongside Harris at public engagements, and has voiced a desire to "help people get access to legal services".
Emhoff met Harris on a blind date in 2013 and hit it off. They were married a year later in a ceremony which was officiated by Maya Harris, Kamala's sister.Who is Doug Emhoff's ex-wife Kerstin?
Emhoff was married to Kerstin Emhoff, nee Mackin, for 16 years and they had two children, Cole and Ella, who apparently affectionately call Harris "Momala".
Kerstin is founder and CEO of production company PrettyBird.
She was born on 18 March 1967, in Minneapolis, to a family of Swedish descent, and the pair are reportedly still close despite their divorce. Kerstin volunteered on Harris' campaign.
What's Emhoff and Harris's net worth?
According to an article published in Forbes, under the headline The Net Worth of Every 2020 Presidential Candidate, Emhoff and Harris have an estimated net worth of $5.8 million (roughly £4.25m).
The couple have homes in Los Angeles, San Francisco and Washington DC.