Donald Trump's Scottish firm to hire executive to 'raise environmental awareness'
Former US president has repeatedly attacked climate change science and drawn the ire of environmentalists
He has travelled between his Scottish resorts via private jet and nine car motorcades, and holds notorious views about climate change, condemning it variously over the years as "mythical," "non-existent," and an "expensive hoax."
Now, in what ranks as one of the unlikeliest developments in Donald Trump's contentious presence in Scotland, his flagship international property at Turnberry is looking to recruit a dedicated carbon management executive to reduce its environmental impact and advise others on green issues.
The former US president has long been criticised by environmental groups, both for his own business dealings, and for the policies he implemented during his single term in the White House, when his administration rolled back a host of rules governing clean air, water, wildlife and toxic chemicals.
He has also repeatedly clashed with green groups in Scotland over the years, thanks in large part to his controversial decision to build his Aberdeenshire golf course on parts of dunes at the Foveran Links. In December 2020, Nature Scot announced that the sand dunes had lost their special status as a site of special scientific interest, concluding that the site's special features had been "partially destroyed."
Since Mr Trump took over Turnberry, the firm overseeing his private aircraft, DJT Operations LLC, has been served with a £1,610 penalty by the UK Environment Agency due to the carbon pollution from one of his jets.
Mr Trump flew into Abrdeen last week on his private Boeing 757, before boarding the same plane to Glasgow Prestwick Airport the following day as he visited Turnberry to play golf.
The resort, famous worldwide for hosting four iterations of golf's prestigious Open championship, has previously been assessed as 'poor' by the Scottish Environment Protection Agency, which ruled that limits for taking water to irrigate the course were breached.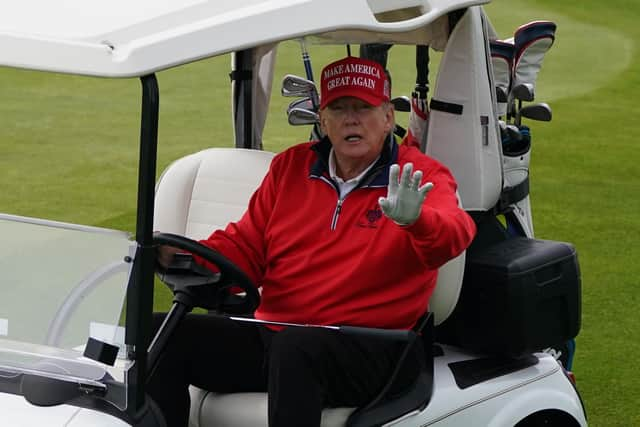 However, the South Ayrshire property is currently looking to hire an executive tasked not only with reducing its environmental footprint, but "raising environmental awareness."
The resort's recruiters said they are seeking an "exceptional" and "enthusiastic" individual responsible for coordinating all of its initiatives around energy management, environmental sustainability and welfare.
An advertisement for the vacancy states that the successful candidate will "actively work with the resort management team to reduce the environmental impact of our business activities," and "continually improve and innovate on practices aimed at conserving natural resources."
Other duties specified in the advert include minimising waste and pollution, "enhancing indoor environmental quality," establishing and reporting on key environmental performance indicators, "raising environmental awareness among our associates, guests and communities," and co-ordinating an annual environmental impact survey.
According to its latest filings by Turnberry's parent company, Golf Recreation Scotland Ltd, under the UK government's streamlined energy and carbon reporting guidance (SECR), the resort's total scope 1 greenhouse gas emissions - emissions that occur from sources that are controlled or owned by the firm - stood at 941 metric tonnes of carbon dioxide equivalent in the 12 months to 31 December 2021. Once indirect - or scope 2 - emissions are taken into account, the total emissions were 1,476 metric tonnes.
The Trump Organisation did not respond to enquiries from Scotland on Sunday.
Comments
 0 comments
Want to join the conversation? Please or to comment on this article.