Donald Trump arrested: Donald Trump says he will be arrested on Tuesday as prosecutor eyes charges
Former US president Donald Trump has said in a social media post that he will be arrested on Tuesday, as a New York prosecutor eyes charges in a case examining hush money paid to women who alleged sexual encounters with him.
Mr Trump said in a post on his Truth Social network on Saturday that "illegal leaks" from the Manhattan district attorney's office indicate that "THE FAR & AWAY LEADING REPUBLICAN CANDIDATE & FORMER PRESIDENT OF THE UNITED STATES OF AMERICA, WILL BE ARRESTED ON TUESDAY OF NEXT WEEK."
Trump urged his followers to protest.
Law enforcement officials in New York have been making security preparations for the possibility that Mr Trump could be indicted.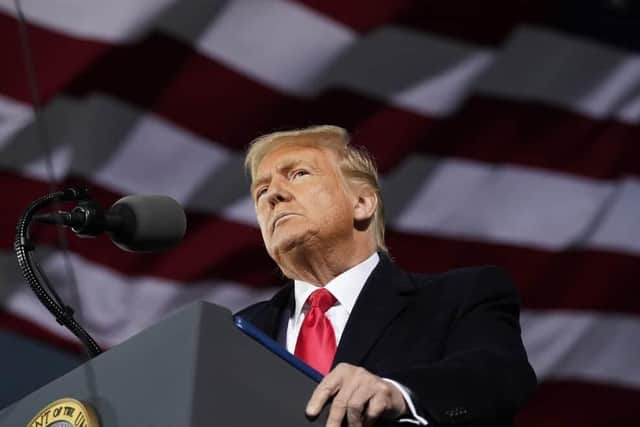 There has been no public announcement of any time frame for the grand jury's secret work in the case, including any potential vote on whether to indict the ex-president.
Mr Trump did not provide any details on social media about how he knew about the expected arrest.
The indictment of Mr Trump, 76, would be an extraordinary development after years of investigations into his business, political and personal dealings.
It is likely to galvanise critics who say Mr Trump, a 2024 presidential candidate, lied and cheated his way to the top and to embolden supporters who feel the Republican is being unfairly targeted by a Democratic prosecutor.
In his postings, he repeated his lies that the 2020 presidential election he lost to Democrat Joe Biden was stolen and he urged his followers to "PROTEST, TAKE OUR NATION BACK!"
That language evoked the message from the then-president that preceded the riot at the US Capitol on January 6 2021, when his supporters broke through doors and windows of the building and left officers beaten and bloodied as they tried to stop the certification of the election.
Last night Donald Trump returned to Facebook after a more than two-year ban.
"I'M BACK!" Mr Trump posted on the site weeks after his personal account was reactivated. He also shared an old video clip in which he said: "Sorry to keep you waiting. Complicated business."
Mr Trump posted the same clip on YouTube, which announced on Friday that it, too, was welcoming him back.
Facebook parent company Meta had said in January that it would be restoring Mr Trump 's personal account in the coming weeks, ending the suspension it imposed in the wake of the January 6 insurrection, when Mr Trump's supporters violently stormed the US Capitol in a bid to halt the peaceful transition of power.
"The public should be able to hear what their politicians are saying — the good, the bad and the ugly — so that they can make informed choices at the ballot box," Nick Clegg, Meta's vice president of global affairs, wrote at the time.
The company also said it would be adding "new guardrails" to ensure there are no "repeat offenders" who violate its rules, even if they are political candidates or world leaders.