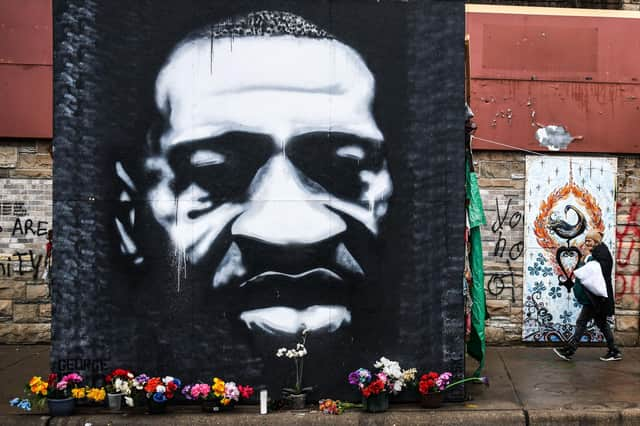 The trial has attracted huge global attention after Floyd's death sparked a worldwide movement in the fight against racial injustice.
The 46-year-old was killed on May 25, 2020 and video footage later circulated of a police officer pinning the victim to the ground.
The three-week trial has taken place in Minnesota and the court is being protected by armed soldiers from the National Guard, barbed wire and high barriers.
What is Derek Chauvin charged with?
Chauvin, 45, is charged with second-degree murder, third-degree murder and second-degree manslaughter.
All three charges require the jury to conclude that Chauvin's actions were a "substantial causal factor" in Mr Floyd's death and that his use of force was unreasonable.
What is the maximum prison sentence the defendant could receive?
Second-degree intentional murder carries up to 40 years in prison, third-degree murder 25 years, and second-degree manslaughter 10 years.
When will the jury deliver their verdicts?
The 12 jurors in the trial are made up of six white people and six back or multiracial people.
The court is now in recess and will remain that way until the jury makes their decision.
The trial started on March 29 and has lasted for three weeks - with closing arguments ending on Monday (April 19).
What have the jurors heard so far in the Derek Chauvin trial?
Jurors were told by the prosecution that Chauvin had killed Mr Floyd, while the defence said the former police officer had correctly followed his training.
After the three-week trial's closing arguments, Judge Peter Cahill rejected a defence request for a mistrial based partly on comments by California representative Maxine Waters that protesters could get more confrontational in the absence of a guilty verdict.
The judge told Chauvin's lawyer: "I wish elected officials would stop talking about this case, especially in a manner that is disrespectful to the rule of law and to the judicial branch."
During closing arguments on Monday, prosecutors said Chauvin squeezed the life out of Mr Floyd by pinning his knee against his neck last May, ignoring bystanders, his own training and common sense.
The defence argued that the now-fired white officer acted reasonably and Floyd died of an underlying heart condition and illegal drug use.
Chauvin "had to know" he was squeezing the life out of Mr Floyd as he cried over and over that he could not breathe and finally fell silent, a prosecutor told the jury during closing arguments.
"Use your common sense. Believe your eyes. What you saw, you saw," Steve Schleicher said, referring to the video of Mr Floyd pinned to the pavement with Chauvin's knee on or close to his neck last May for up to nine minutes, 29 seconds, as bystanders yelled at the white officer to get off.
Chauvin's lawyer Eric Nelson countered by arguing that Chauvin did what any "reasonable" police officer would have done after finding himself in a "dynamic" and "fluid" situation involving a large man struggling with three police officers.
He said Chauvin's body camera and badge were knocked off his chest due to the "intensity of the struggle".
Mr Nelson also argued that Chauvin was unlikely to have intentionally violated use-of-force rules as he would have known that the incident was being recorded.
The defence contends not only that Chauvin acted reasonably but that 46-year-old Mr Floyd died of heart disease and illegal drug use, not Chauvin's actions.
Prosecutor Jerry Blackwell had the final word, offering the state's rebuttal argument. The prosecutor, who is black, said questions about the use of force and cause of death are "so simple that a child can understand it".
"In fact, a child did understand it, when the nine-year-old girl said, 'Get off of him'," Mr Blackwell said, referring to a young witness who objected to what she saw. "That's how simple it was. 'Get off of him'. Common sense."
Under the law, police are given certain latitude to use force and their actions are supposed to be judged according to what a "reasonable officer" in the same situation would have done - a point the defence stressed repeatedly.
The prosecution took about an hour and 45 minutes to make its case, with Mr Schleicher saying at the conclusion: "This wasn't policing. This was murder."
Mr Nelson, in his closing argument, played portions of bystander video that showed the increasingly agitated onlookers shouting at Chauvin to get off Mr Floyd's neck.
He said officers may have determined it was not safe to render medical aid to Mr Floyd in that environment.