Cory Johnson and Dustin Higgs: why court rulings to delay final two executions under Trump were overturned
US appeals court overturns ruling to delay final two federal executions of the Donald Trump administration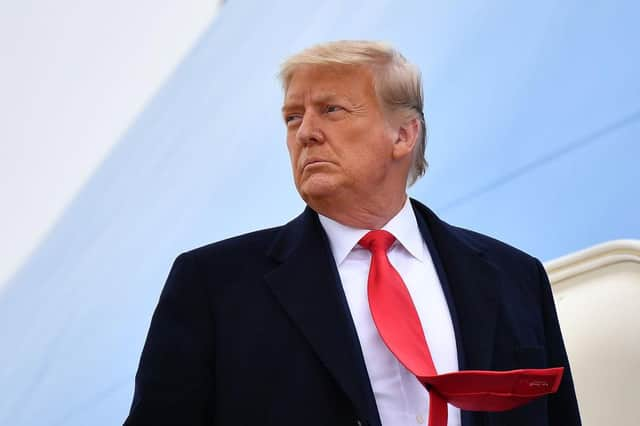 Court rulings to delay the final two US federal executions under the Donald Trump presidency have been overturned by the US appeals court.
Condemned murderers Cory Johnson and Dustin Higgs were scheduled to die on 14 and 15 January respectively at an execution chamber in a prison at Terre Haute, in Indiana.
The fates of the two inmates were thrust into the public spotlight after a US district court judge ordered the executions to be delayed until at least 16 March 2021.
But a split panel of judges at a US appeals court for the District of Columbia circuit overturned Johnson's and Higgs's stays of execution by a 2-1 vote.
Why were the deaths initially delayed?
Judge Tanya Chutkan of the US District Court in Washington has ordered the delay of both executions, extending their time on death row until at least 16 March.
Johnson, 52, killed seven people in 1992 in the Richmond, Virginia, area and has been on death row for nearly 28 years.
Higgs, 48, kidnapped and ordered the murders of three women in Maryland in 1996.
Judge Chutkan delayed the killings from taking place while the two recovered from coronavirus.
What impact has Covid had on the two inmates?
Lawyers made the argument that the virus had damaged their lung tissue and giving them the lethal injection would cause severe pain.
The judge heard how the men could experience drowning as their lungs filled with bloody fluids, called a pulmonary edema, before the lethal dose took effect.
In her ruling, judge Chutkan wrote: "A person with Covid-19 related lung damage will experience flash pulmonary edema before the pentobarbital reaches the brain.
"Though the Eighth Amendment does not guarantee a painless death, it does prohibit needless suffering."
What is capital punishment?
Capital punishment, also known as the death penalty, is a state-sanctioned practice of killing someone as a punishment for a crime.
The US government and the US military retain the death penalty.
For the first time in the US's history, there were more federal executions in 2020 than there were state executions.
Which US states retain the death penalty?
A total of 28 states still have the power to use the death penalty.
They are:
Alabama
Arizona
Arkansas
California
Florida
Georgia
Idaho
Indiana
Kansas
Kentucky
Louisiana
Mississippi
Missouri
Montana
Nebraska
Nevada
North Carolina
Ohio
Oklahoma
Oregon
Pennsylvania
South Carolina
South Dakota
Tennessee
Texas
Utah
Virginia
Wyoming
Which US states don't have the death penalty?
There are 22 states who don't have the death penalty.
They are as follows, accompanied by the year it was abolished:
Alaska (1957)
Colorado (2020)
Connecticut (2012)
Delaware (2016)
Hawaii (1957)
Illinois (2011)
Iowa (1965)
Maine (1887)
Maryland (2013)
Massachusetts (1984)
Michigan (1847)
Minnesota (1911)
New Hampshire (2019)
New Jersey (2007)
New Mexico (2009)
New York (2007)
North Dakota (1973)
Rhode Island (1984)
Vermont (1972)
Washington (2018)
West Virginia (1965)
Wisconsin (1853)