Church of Scotland moderator says 'door is open' to South Sudan peace after Pope visit
The "door is open" to finally sign a stalled peace agreement in South Sudan, the Moderator of the General Assembly of the Church of Scotland has said.
Rt Rev Dr Greenshields said he prayed the good will built up during a historic ecumenical pilgrimage of peace involving him, Pope Francis and the Archbishop of Canterbury would mark a turning point in the troubled country's short history.
He said it was very humbling and a privilege to stand in solidarity with millions of people who are suffering profoundly from continued armed conflict, violence, corruption, floods and famine.
The Church of Scotland was invited to represent the Presbyterian family, during the visit ending on Sunday, due to its strong partnership with the Presbyterian Church of South Sudan.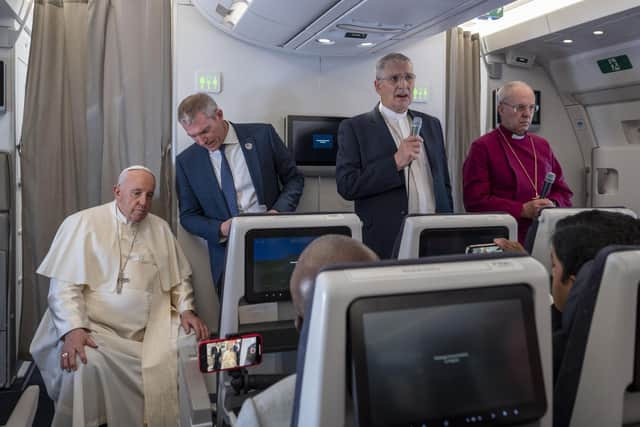 Both churches have been working closely together since 2015 on a vital peace, reconciliation and conflict resolution programme.
The Church of Scotland has helped South Sudanese church leaders work at both a grassroots level and political level to try and bring unnecessary conflict to an end and build lasting peace, stability and unity.
Dr Greenshields, who just completed a three-day official visit to the country, alongside the Pope, said the President of South Sudan, Salva Kiir Mayardit and his first vice-president, Riek Machar, both indicated they were willing to promote forgiveness and reconciliation.
The Republic of South Sudan gained independence from Sudan in 2011.
Around 400,000 people are said to have lost their lives over the years, 9.4 million people need humanitarian aid and an estimated two million people have been displaced in the country.
A recent United Nations report describes a "hellish existence for women and girls" in South Sudan with widespread rape being perpetrated by all armed groups across the country.
Rev Fiona Smith, principal clerk to the General Assembly who took part in the pilgrimage, said: "The beaming smiles and shining hope on the faces of the women that I met took my breath away. But I also heard their cries of pain.
"They have no voice, so we must be their voice to call for an end to the barbaric treatment of the women and girls of South Sudan. This is why justice, peace and reconciliation is critically urgent. The world cannot stand by and allow this to carry on."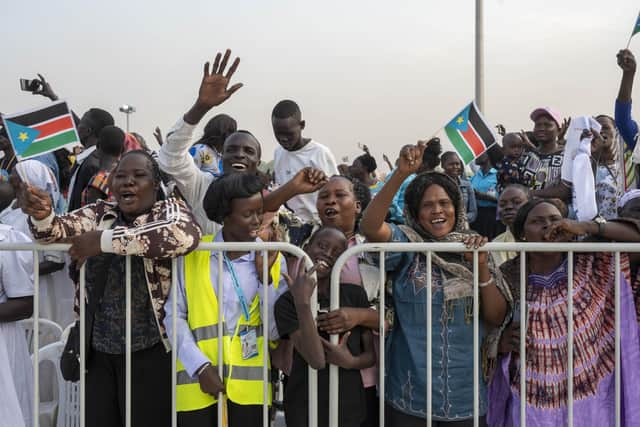 Dr Greenshields said: "South Sudan is the youngest country in the world and it has enormous potential that has yet to be properly realised.
"I embarked on this historic Pilgrimage of Peace with my brothers in Christ to shine a spotlight on a country crippled by civil war and speak truth to power while assuring local people that they are loved by God and must love another deeply.
"That has now been done and it now up to those who can make a difference to start the peace process urgently. But actions speak louder than words and the world is watching."
The visit concluded on Sunday morning with Pope Francis leading a outdoor mass in the centre of Juba, the nation's capital city, and the Moderator and the Archbishop of Canterbury attended. The three men prayed for the people of South Sudan and signed a peace accord.
On Saturday morning, the Moderator preached in front of nearly 16,000 people at a Presbyterian church in Juba.
He was given a rapturous welcome at Nyakuron-West Church when he and the Church of Scotland delegation arrived.
Comments
 0 comments
Want to join the conversation? Please or to comment on this article.