Ceasefire Israel-Hamas: What is a ceasefire? Why is there a ceasefire vote? Why do Sir Keir Starmer, Rishi Sunak not support a ceasefire in Gaza?
The issue of a ceasefire in Gaza has divided politicians both internationally and domestically
The question of whether governments should press Israel to implement a ceasefire in Gaza has been one of much controversy around the world – and specifically in the UK, where politicians are divided on the issue.
Humanitarian groups have pressed for there to be a stop to the Israeli attacks on Gaza, where more than 11,000 people have now been killed. Most of the dead have been women and children, according to the Gaza Health Ministry. Many hundreds of thousands of others are living under constant bombardment, while an Israeli siege on the territory has blocked food, water, fuel and medical supplies from entering Gaza.
Who has already called for a ceasefire? What is the difference between a ceasefire and a 'humanitarian pause'?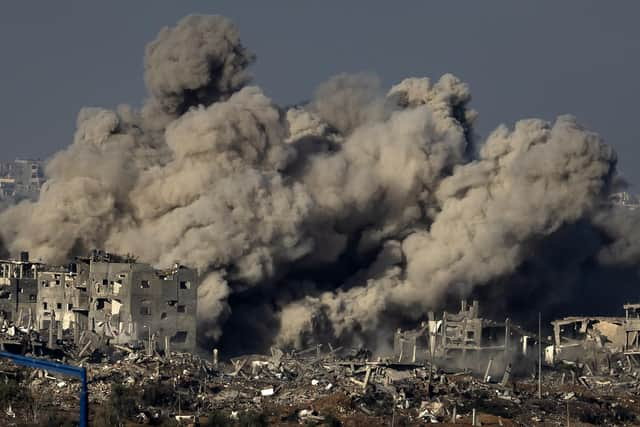 Some countries including Ireland, Belgium and Spain have called for a complete ceasefire. The most prominent recent voice to add to ceasefire calls was that of French president Emmanuel Macron, who warned Israel last week there was "no justification" for bombing civilians.
However, others have stopped short of doing so, with some instead backing the idea of a "humanitarian pause" rather than a full ceasefire to allow people to flee the worst-affected areas and for aid to be distributed.
US president Joe Biden, who has put pressure on Israel to implement pauses in its attacks, which occurred for the first time last week, has also fallen short of calling for a ceasefire. Earlier this week, more than 400 employees of Mr Biden's administration signed an open letter demanding he call for a full ceasefire.
First Minister Humza Yousaf has called for a full ceasefire.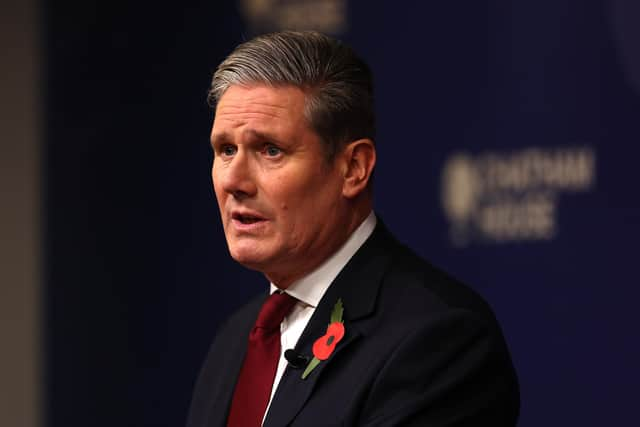 Why is Westminster likely to vote on the issue of a ceasefire in Gaza today?
The SNP has put forward an amendment to the King's Speech, which is to be debated on Wednesday in the House of Commons. The amendment calls for the chamber to "call on the Government to urgently press all parties to agree to an immediate ceasefire, the immediate and unconditional release of hostages, an end to the total siege of Gaza to allow full access to medical supplies, food, fuel, electricity and water".
The full version of the wordy amendment states: "At end add 'but respectfully regret that the Gracious Speech fails to include measures to ensure the Government upholds international humanitarian law and protect civilians in Israel and Palestine; utterly condemn Hamas' appalling killing of Israeli civilians and taking of hostages; agree with the United Nations Secretary-General that these crimes do not justify the collective punishment of the Palestinian people; express alarm at the Israeli military's total siege and bombardment of Gaza and the resulting high number of deaths and at an increase in Israeli army and settler violence in the West Bank; believe that the urgent priority must be to stop civilian deaths and suffering; welcome the growing calls for a ceasefire, including from the United Nations Secretary-General, the First Minister of Scotland, the mayors of London and Greater Manchester, and 76 per cent of the UK public, according to opinion polls; and therefore call on the Government to urgently press all parties to agree to an immediate ceasefire, the immediate and unconditional release of hostages, an end to the total siege of Gaza to allow full access to medical supplies, food, fuel, electricity and water, and a guarantee that international humanitarian law is upheld.'"
Will a vote on the Gaza amendment definitely go ahead?
No. The amendment is one of many on different issues put forward by MPs. It has to be selected by the Speaker to be debated and voted on. Under Standing Order No 33(1), the Speaker may select up to four amendments for debate and decision. However, it is expected it is likely to be among those chosen.
Labour has put forward a last-minute amendment of its own, calling for "longer" humanitarian pauses in fighting to allow in aid, which could be as long as weeks. The party also condemns the conduct of the war by both sides, and highlights the need to protect hospitals from attacks, as well as calling for Israel to end its siege of the territory.
Is the SNP amendment likely to be passed and what would happen if it was?
The motion in response to the King's Speech was last amended in 2016, when the UK Government accepted an amendment tabled by its own backbenchers regretting the Speech had not included "a Bill to protect the National Health Service from the Transatlantic Trade and Investment Partnership".
SNP Westminster leader Stephen Flynn has written an open letter to MPs, urging them to "show moral leadership" by backing his party's amendment.
SNP MPs are set to vote for the amendment, while earlier this week, the Liberal Democrats also put forward their call for a "an immediate bilateral ceasefire in Israel and Gaza". The issue has divided the Labour Party.
Technically an amendment that was passed would become government policy. However, the government is not required to introduce all of the legislation proposed in the King's speech, even the original version.
Why are politicians in disagreement over a ceasefire?
Many in the international community have urged Israel to consider the human cost of its war on Hamas, but some have stopped short of calling for a true ceasefire.
Labour leader Sir Keir has previously called for a "humanitarian pause" in the conflict, but has declined to support a full ceasefire, explaining it would only allow Hamas to regroup.
However, he is facing rebellion over the issue in his party. Reports have claimed as many as a dozen shadow ministers are ready to resign rather than vote against calling for a ceasefire. One shadow minister, Imran Hussain, has already resigned over the issue.
It is not yet clear whether Labour Party politicians will be given the right to vote freely or if they will be expected to follow the whip. However, some have claimed Labour's last-minute amendment is a call for a ceasefire in all but name.
Comments
 0 comments
Want to join the conversation? Please or to comment on this article.