Canada to become first country to print stark health warnings on individual cigarettes
The warning will include phrases such as "Cigarettes cause cancer" and "Poison in every puff".
Sentences printed on cigarettes will tell smokers "cigarettes cause cancer" "tobacco smoke harms children" and "cigarettes damage your organs", as well as "poison in every puff".
It is the first time any country globally has taken this step, which the Canadian government said would make it "virtually impossible to avoid health warnings".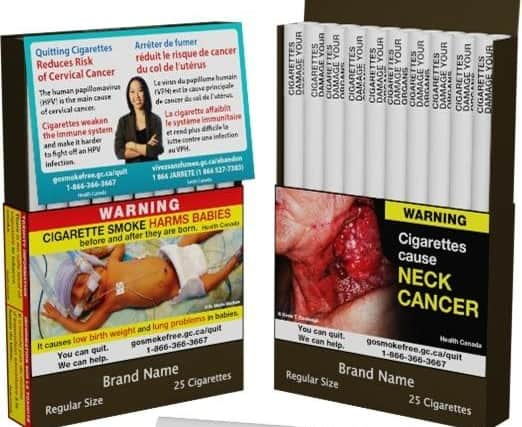 The measures will begin to be introduced in April next year. King size cigarettes will be the first to feature the individual health warnings and will be sold by retailers in Canada by the end of July 2024, followed by regular size cigarettes and small cigars with tipping paper by the end of April 2025.
Tobacco use continues to be the leading preventable cause of illness and premature death in Canada, killing about 48,000 Canadians each year. Canada has a target of reaching less than 5 per cent tobacco use by 2035.
Health minister Jean-Yves Duclos said: "Tobacco use continues to be one of Canada's most significant public health problems, and is the country's leading preventable cause of disease and premature death in Canada. Our government is using every evidence-based tool at our disposal to help protect the health of Canadians, especially young people.
"Beginning next year, these new measures will help make sure that everyone across the country can receive credible information on the risks of tobacco use so they can make healthier choices for their well being."
Comments
 0 comments
Want to join the conversation? Please or to comment on this article.