Brexit anniversary: Scottish zoos and aquariums tell Rishi Sunak conservation breeding programmes of endangered animals in jeopardy due to Brexit
Conservation breeding programmes of endangered animals are in jeopardy as a result of Brexit, a group of zoos, aquariums and conservationists have warned.
More than 75 organisations, including the Royal Zoological Society of Scotland, have called for the UK Government to negotiate an agreement with the European Commission to allow for the transfer of zoo and aquarium animals between Britain and the EU.
The open letter, issued to Prime Minister Rishi Sunak, has been signed by zoos, aquariums, safari parks and animal sanctuaries, including the Royal Zoological Society of Scotland (RZSS), which operates Edinburgh Zoo, and the Highland Wildlife Park, as well as other Scottish animal sites such as the Scottish Deer Centre and St Andrews Aquarium.
The letter said since leaving the EU, zoo animal transfers have plummeted by 85 per cent, from 1,400 transfers per year to just over 200.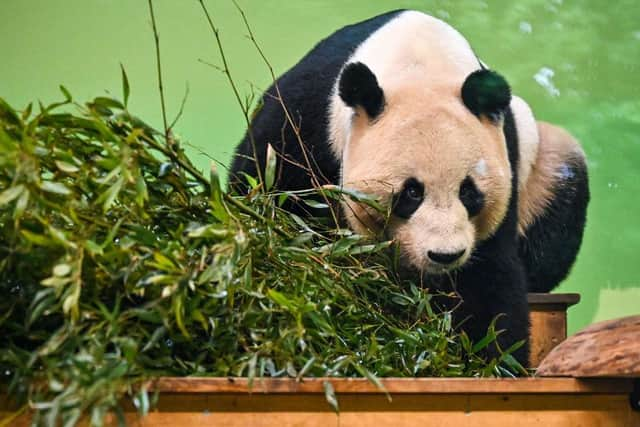 Experts warned this threatened conservation breeding programmes, which rely on carefully planned transfers of animals between zoos and aquariums, to maintain healthy populations of species across Europe.
In the letter to Mr Sunak, the group said the "mountain of red tape is effectively an un-scalable barrier" to British participation in essential transfer programmes. They said the participation of UK zoos and aquariums in the system is "essential to the fight against biodiversity loss and halting the extinction crisis".
David Field, chief executive officer of RZSS, said endangered Asiatic lions due to move from Edinburgh Zoo to a zoo in Denmark were held up by red tape for over a year.
He said: "Breeding programmes in good, conservation-focused zoos help to ensure the long-term survival of many species, so it is vital that a solution is found which enables animals to move between the UK and Europe."
Mr Field added: "Collaboration is more important than ever as we face a worldwide extinction crisis. The current situation may also raise short-term welfare challenges when zoos have to find or create habitats for animals which would previously have joined a breeding programme in another country."
Other animals in British zoos affected by the issue included the move of a female golden lion tamarin to London Zoo, which was delayed by almost 17 months. The transfer of an endangered pileated gibbon at Colchester Zoo was also delayed by 17 months.
BIAZA, the British and Irish Association of Zoos and Aquariums, has been working with officials to resolve the issues so that its members can continue contributing fully to international breeding programmes. However, without an agreement between Britain and the EU that removes unnecessary red tape, it warned the number of animal transfers would never reach the levels seen before the UK's exit from the EU.
Dr Jo Judge, chief executive of BIAZA, said: "Government has not replaced the framework that lets zoo animals move easily between Britain and the EU. The red tape swamp has made it extremely difficult for zoos and aquariums to fully partake in the international conservation programmes that are so important to many species."
The campaign calls for the negotiation of an EU-UK Sanitary and Phytosanitary agreement, which would enable more zoo and aquarium species to be moved as part of vital conservation breeding programmes.
A Defra spokesperson said the letter had been received by Number 10.
He said: "We are clear that the movement of zoo animals between the UK and EU should continue, and are engaging with them to agree a pragmatic resolution."
Comments
 0 comments
Want to join the conversation? Please or to comment on this article.