Belarusian regime survivor pleads with Scotland to oppose tyranny in his homeland
A survivor of Alexander Lukashenko's Belarus, Europe's last surviving dictatorship, has pleaded with Scotland to open its eyes to the 'tragedy' befalling his homeland.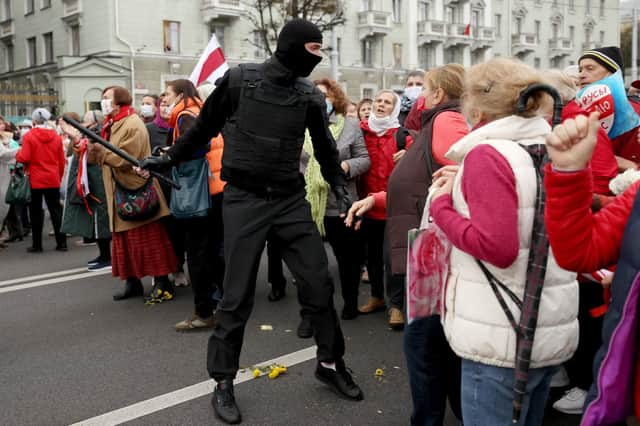 Belarusian pensioners argue with a law enforcement officer during a rally
A survivor of Europe's last dictatorship has recounted horrific police brutality that made him flee Belarus for a new life in Scotland.
Vlad Novik, 50, and scores of other Belarusians fleeing the autocratic rule of leader Alexander Lukashenkpo have found refuge in Scotland.
But now, after 26 years of autocratic rule by the former Communist-era politician, he and others want to break their silence to highlight the ongoing stranglehold he has had on their country for a generation.
Law enforcement officers patrol a street as opposition supporters rally to protest against police violence and Belarus presidential election results in Minsk
Vlad said: "My friends were dragged inside a military truck; they were stripped naked and stockpiled on top of one other together with complete strangers. Then, an officer climbed on top and pissed on the human pile. My friend ended up on the bottom and lost his consciousness. Everyone ended up in prison that night.
"Leaving family and friends behind was an inevitable decision, I was not ready to pay tax to the fascist-like regime, it felt like crime, and there was no chance of getting justice", he said.
It's been almost 20 years since fate drew Vlad to Scotland, and still he finds it hard to sleep at night, despite having the security of a UK citizenship and a stable income from his programming work.
"Seeing people tortured and humiliated keeps you awake like nothing else. Our social media is flooded with violent images", he said.
Vlad and other Belarusian diaspora members are protesting in Edinburgh
But Vlad believes that images like these will play a key role in bringing the persecutors to justice "there are hundreds of thousands of images, videos, and databases with names and faces of those who tortured us and continue to do so circulating social media".
"The Nazis had 13 million soldiers brought to justice, the Belarusian government has no more than a hundred thousand bullies. The regime won't stand a chance with sanctions coming their way, it's a matter of weeks before Lukashenko can no longer withstand the pressure".
Going back to Belarus has been difficult for Vlad since he left "a one-way journey costs about £400, the same as it would get to Australia and I refuse to pay that to go back to a country ruled by a Lukashenko's fascist-like regime".
In addition, his experience at the customs desk from Minsk airport four years back assured him that going back is not a viable option.
Riot police detain a protester after polls closed in the presidential election, in Minsk on August 9, 2020
"Once I showed my UK passport, the officer started screaming at me, calling me 'idiot' and 'who do you think you are with your UK passport?' it felt like I was looking at the product of long years of brainwashing, it reminded me of the USSR. There were other officers around and no one stepped in", he recalls.
Still today, Belarusians continue to suffer under the rule of 66-year-old Lukashenko, often referred to as "Europe's' last dictator".
Tens of thousands of people have joined protests on every weekend since August 9, when Lukashenko, claimed a sixth successive term at elections that were almost certainly rigged. At least eight protesters have been killed and hundreds more have alleged torture, including rape, in police custody. Russia, Belarus's closest ally, has said that the protests are being orchestrated by the United States.
He claimed 80.1% of votes in the presidential election in August this year commencing his sixth term as president.
Vlad Novick fled to Scotland from Belarus
But the election was deemed fraudulent by the EU and OSCE resulting in mass- protests in support of presidential opposition candidate Svetlana Tikhanovskaya, who was forced into exile to neighbouring Lithuania.
It has been five months since the election and more than 25,000 people have been detained for protesting throughout Belarus UN High Commissioner for Human Rights Rupert Colville has reported. Incidents of prolonged stress positions, electric shocks and rape have been reported by international NGO, Human Rights Watch.
And earlier this month, the country was shaken when a 31-year-old artist and activist Roman Bondarenko was brutally beaten by the police.
In response to police brutality, and rigged elections, the EU council sanctioned 40 subjects responsible for oppressing and intimidating opposition protestors with possibility of further sanctions on Belarusian energy and chemical sectors being discussed this week.
There are currently no official figures on how many Belarusians live in Scotland. But Siargei Druhakou, an active member of the Belarusian diaspora, estimates around 5,000 persons based on membership across various social media groups.
Like Vlad, Siargei left the country nearly 20 years ago and has no plans of going back until he can help Belarus recover from the 'ruins of Lukashenko's regime'. In the meantime, he is working on setting up an independent consulate for Belarussians living in the UK.
A person makes a V-sign wearing a bracelet with historical white-red-white colors of Belarus flag with a rainbow in the back as opposition supporters rally to protest against disputed presidential elections results in Minsk
"The idea came about due to the disregard and lack of communication from the current embassy, diasporas all around Europe have been setting up alternative consulates, to give a voice to those living outside of the country. Our goal is to be included in international dialogue, and to be a point of contact for uncensored information", says Siargei.
Together with Vlad and others from the Belarusian community, he has been staging weekly protests across Scotland aiming to raise awareness of the brutality in Belarus. "The media does not report what is happening in our country, and many people don't know of the torture and distress that Belarusians have to live through on a daily basis", he said.
Both Vlad and Siargei stress that anyone can help by reaching out to their MP about supporting economic sanctions on subjects related to Lukashenko.
Belarusian President Alexander Lukashenko