Aleksandr Ivulin, a blogger, journalist and football player in Belarus, was arrested in June 2021 and has served almost two years in prison. He was released this week and has left Belarus for Georgia.
Mr Ivulin was "adopted" in November 2021 by Liberal Democrat MSP Liam McArthur as part of a campaign by pro-democracy campaigners Liberico to highlight the plight of political prisoners in Belarus. A player for Minsk-based first league team Krumkachy FC, Mr Ivulin was also a reporter for Tribuna, Belarus's largest independent sports news website and ran a football YouTube channel, ChestnOK.
Belarus is ruled by dictator Alexander Lukashenko, an ally of Russian president Vladimir Putin. Many Belarusians, including journalists and human rights campaigners, have been imprisoned for speaking out against Mr Lukashenko, or for taking part in protests.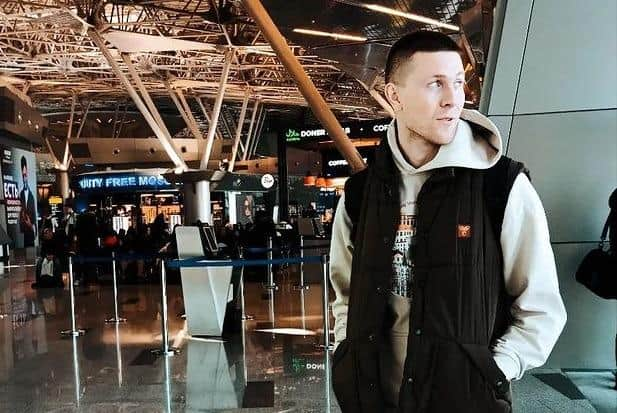 Mr Ivulin was charged with organising violations of public order by Belarusian authorities, after being detained at home in June 2021, allegedly for displaying a flag in the window of his flat. His arrest came at the end of two years of protests in the country and just weeks after Mr Lukashenko passed a law restricting future protests.
Addressing supporters on his Instagram page, Mr Ivulin said: "All these 624 days, until we saw each other, it was much more difficult for you than for me. You were afraid of the unknown.
"You did not know how I am and what is happening to me. You didn't know how to help me. At the same time, you did everything possible to make life a little easier for me on the other side of the fence. You did so much that I still can't comprehend the full scale."
In September, 2021, a football match between Belarusian and Scots players was held at the ground of Hamilton Academical to raise the profile of Mr Ivulin's case.
Mr McArthur said: "I'm delighted to hear that footballer and activist, Alexander Ivulin has been released from his unjust imprisonment in Belarus.
"I pay tribute to Libereco who have campaigned tirelessly to raise awareness of the plight of political prisoners in Belarus and work towards their release."
He added: "Sadly, hundreds of people like Alexander remain wrongfully detained under Alexander Lukashenko's authoritarian regime with its brutal suppression of basic freedoms. As we stand in solidarity with the Ukrainian people, we must also continue to support the Belarusian people in their struggle for democracy and human rights."
Irina McLean, spokeswoman for the People's Consulate of Belarus in Scotland, said: "Aleksandr Ivulin has been an inspiration to us all. His letters from prison have been full of hope, dignity and pride. He is a true Belarusian who like many of us has been let down by the dictatorship regime which rules the country.
"We will not stop supporting this cause until all 1,450 political prisoners are released."
Opposition politician Sviatlana Tsikhanouskaya was widely believed to have won the majority vote in the last election in Belarus in August 2020. However, she was forced to flee the country immediately after the vote, with Mr Lukashenko, who has led Belarus since 1994, remaining in power.