Belarus: inside Europe's last dictatorship
Belarus is Europe's last dictatorship - the last bastion of the Communist era, decades after countries such as Romania and Bulgaria overthrew similar regimes.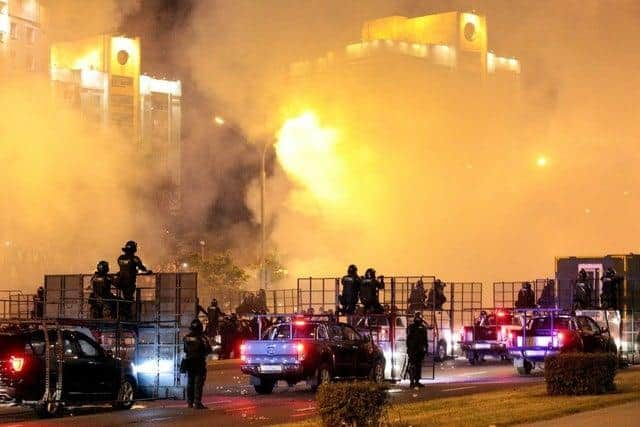 Protests took place on Sunday night on the streets of Minsk.
I visited the country last year and found it at a strange crossroads between Communist dictatorship and the modern, western world.
On one side of the wide main boulevard in the capital, Minsk, locals paid pennies for strong espresso in tiny plastic cups in Communist-era cafes complete with murals depicting bucolic images of rosy cheeked Soviet-style maidens - while across the road, hipsters admired latte art in their designer coffees. The Minsk branch of KFC sits, incongruously, below a wall-mounted 1960s socialist realism sculpture entitled "Solidarity".
Belarus is one of Europe's poorest countries, still reeling from the effects of the Chernobyl disaster, when fallout from the Ukranian nuclear plant explosion landed in the south of Belarus. At the time of my visit, the Foreign and Commonwealth Office advice was still to avoid consumption of local dairy products and forest fruits, for fear of radioactive contamination from the nuclear waste which fell onto the land more than 30 years ago. The average salary in the country is barely more than £300 a month.
Dictator Alexandr Lukashenko - who has been in power since 1994 - has, in recent years, attempted to tentatively open up the country to foreigners, hosting international sporting events to draw in the crowds and reducing visa restrictions for short term visitors and business travellers. Any empty seats at these events, which put Belarus on the international stage through global TV coverage, are bizarrely filled with uniformed soldiers, reportedly to give an impression of a sell-out: a strange sight at the European figure skating competition which I attended.
However, any opposition to Lukashenko's rule has, in previous elections, been dismissed. Early state announcements claim that he has won 80 per cent of the vote in this weekend's election - a similar proportion to the previous poll - but this time around, Belarus is not content to accept it.
The violent clashes on the streets of Belarus's cities on Sunday night showed a country hungry for change.
The Belarusian diaspora voted strongly against the current ruler, casting their votes in embassies around the globe. Yet, inside the country, stories abound on social media of government staff sneaking out of back windows of polling stations with bags stuffed with opposition votes, while some voters claimed that anyone who looked likely to be "opposition" - particularly those who appeared young and liberal - were handed a different ballot paper, which had already, almost imperceptibly, been spoiled and would therefore not count in the final tally.
Whether any of these stories are true is impossible to tell, yet many Belarusians are adamant that there has at least been some degree of electoral fraud.
Yesterday, the internet was essentially shut down across most of the country. The main opposition candidate, Sviatlana Tsikhanouskaya, a 37-year-old teacher, stepped in shortly before the vote after the original candidate - her husband, Sergei - was arrested by the state. She herself had to go into hiding on the eve of the election after her senior staffers were also arrested.
Lukashenko has warned that he "won't allow the country to be torn apart". Whether this will be a "Ceausescu moment" for the dictator - who, some believe, like the Romanian president in 1989, could end up running for the hills - still remains to be seen. Yet many Belarusians fear that even if their dictator is ousted, there could be further dark times ahead in the form of Russian involvement, where Vladimir Putin could potentially take advantage of the fall of Lukashenko as an opportunity to annex the vulnerable nation.