Australia to boost defence capabilities by stocking up on longer-range missiles amid growing China threat
Australia is to increase its efforts to stock up on longer range missiles amid a growing threat from China.
In a strategic review of its defence policies, the Australian government said China's "assertion of sovereignty" over the South China Sea threatens the global rules-based order in the Indo-Pacific in a way that "adversely impacts Australia's national interests".
It said China's military build-up was the largest and most ambitious of any country since the end of the Second World War. But Australian authorities warned the build-up was "occurring without transparency or reassurance to the Indo-Pacific region of China's strategic intent" and vowed to turn a military that is "no longer fit for purpose" into a fighting force that could deter any foe.
Prime Minister Anthony Albanese said the review would "shape the future rather than waiting for the future to shape us", and its recommendations would make Australia "more self-reliant, more prepared and more secure".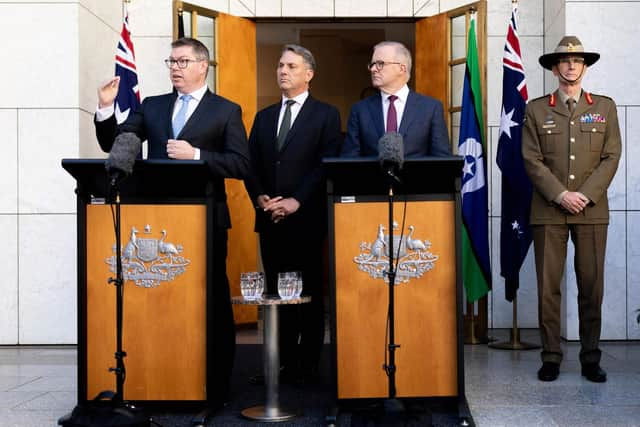 Mr Albanese said: "My Government commissioned the Defence Strategic Review to assess whether Australia had the necessary defence capability, posture and preparedness to best defend Australia and its interests in the strategic environment we now face.
"We support the strategic direction and key findings set out in the review, which will strengthen our national security and ensure our readiness for future challenges."
The Australian Prime Minister added: "The Government will continue to invest in our capabilities and invest in our relationships to help build a more secure Australia and a more stable and prosperous region."
Defence minister Richard Marles said: "A stable relationship between Australia and China is in the interests of both countries and the broader region. Australia will continue to co-operate with China where we can, disagree where we must, manage our differences wisely, and, above all else, engage in and vigorously pursue our own national interest."
He added: "We need to have a defence force which has the capacity to engage in 'impactful projection'."
The report recommends Australia's armed forces should move from land-based armour to "longer-range strike capability, with munitions built in Australia". A 2022 think-tank report warned of a "worst-case scenario" for Australia's military where China took control of territory in the near region during a possible war over Taiwan.
The review recommended six priorities for the country's defence sector, including developing a nuclear powered submarine program, previously announced under the Aukus deal with the United States and the UK. Last month, the US State Department approved the sale of 220 cruise missiles to Australia in a deal valued at $895m (£719m) as part of the Aukus pact.
The review also recommends speeding up the acquisition of long-range strike missiles and manufacturing munitions within Australia and improving the country's defence co-operation with regional neighbours, particularly in the Pacific.
Technical requirements include the need to upgrade the F-35A Joint Strike Fighter and F/A-18F Super Hornet aircraft to operate long-range anti-ship missile systems. The report also called for an urgent recruitment campaign to boost the defence workforce, including the numbers of workers in shipyards to expand Australia's submarine capabilities.
Comments
 0 comments
Want to join the conversation? Please or to comment on this article.