Anti-Semitism: The rise in persecution of Jewish populations around the world since the Israel-Gaza conflict began
Anti-Semitic incidents have risen sharply over the past month
Matthew Miller was referring to the wave of hundreds of anti-Jewish riots and attacks which took place in the Russian Empire in the late 1800s and early 1900s, when thousands of Jews were killed – and which has been cited as a catalyst to the movement to create the state of Israel.
The mob, which checked passports of anyone they suspected of leaving the flight in a bid to hunt down Jews last week, had begun their search at a hotel nearby, which the rioters had heard was housing people who had fled Israel following the outbreak of the conflict.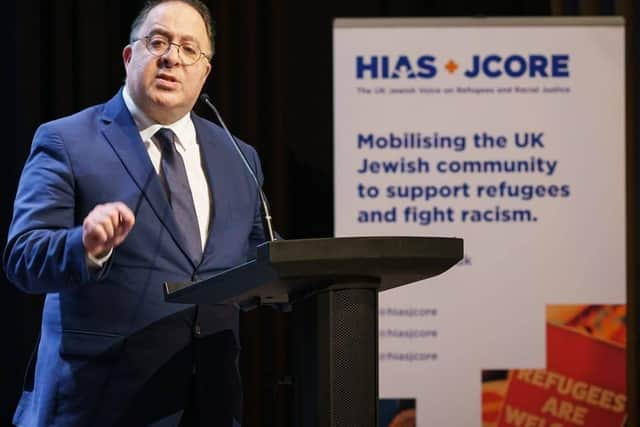 The hotel owner, in a move echoing the wave of anti-Semitic fear created in Nazi Germany in the 1930s, quickly erected a sign distancing himself and his business from the hunted Jews.
"Entrance is strictly forbidden for foreign citizens of Israel (Jews)!!! (And they do not live here!)" the notice said.
In the UK alone, CST, the Jewish community's security organisation, has claimed there have been 805 anti-Semitic incidents since October 7 – an increase of 689 per cent compared to the same 21-day period last year.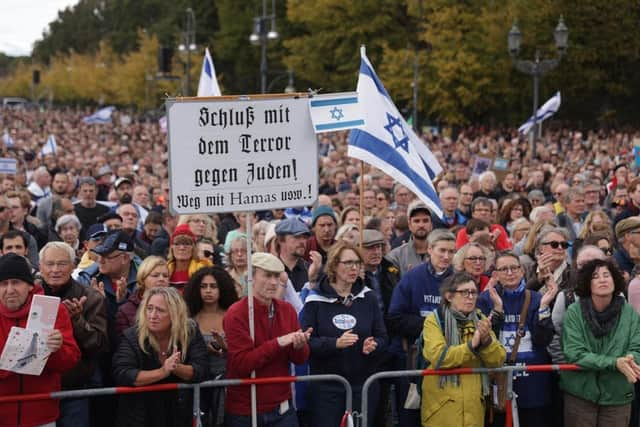 Hannah Holtschneider, professor of contemporary Jewish cultural history at the University of Edinburgh, said historic "tropes" of Jewish culture were being used to create an anti-Semitic narrative.
"For the last three weeks, Jews have felt really alone," she said. "For a lot of people, [the events of October 7] trigger memories of events of earlier times and massive insecurity. We're anxious, we're frightened and we don't feel safe in the spaces where we used to feel safe. The uptick in anti-Semitic incidents is huge."
In the UK, higher education minister Robert Halfon warned incidents of hatred against Jews at universities in the UK has gone up by 400 per cent over the past three weeks. Jewish schools in London closed temporarily following the escalation of the violence between Israel and Gaza amid fears for pupil and staff safety.
Meanwhile, the removal of posters depicting images of the more than 200 Israelis still being held by Hamas after being taken hostage almost a month ago has almost become a symbol of rebellion against Israel's heavy bombardment of Gaza in cities around the world.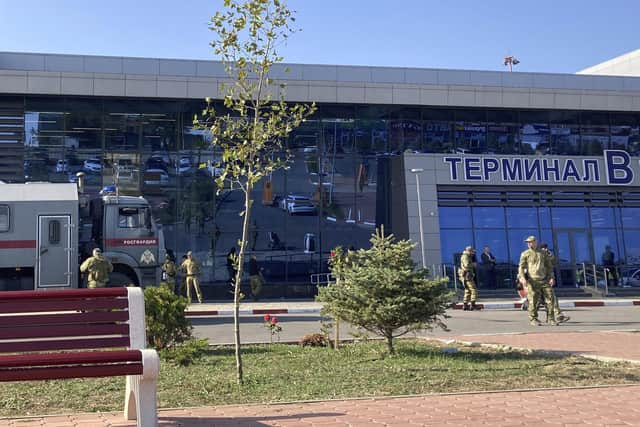 Prof Holtschneider said she believed the situation had inflamed underlying, historic, anti-Semitism and allowed it to come to the surface.
"A lot of it is about using ancient tropes, such as that Jews are linked to influence and power and money [and that] generally Jews don't fit anywhere," she said. "That is the thing that is being emphasised now.".
For hundreds of years, there have been movements against Jewish populations. In the decades before the Holocaust, pogroms in the Russian Empire drove away swathes of the Jewish population. Centuries earlier, in 1290, the entire Jewish population of England – about 3,000 people – was expelled from the country on the orders of Edward I. Two hundred years before that, crusaders passing through the Rhineland in modern-day Germany on their way to Jerusalem attacked Jews in towns throughout the region.
"Jewish history is littered with instances of violence – sometimes state-sponsored violence, sometimes community violence incited in other ways," Prof Holtschneider said.
"I think underlying anti-Semitism, or ignorant anti-Semitism, has always been there. But that can be explained." She pointed to an incident in April this year, when Guardian cartoonist Martin Rowson drew a cartoon that depicted MP Richard Sharp with "outsized, grotesque" characteristics that echoed traditional Jewish stereotypes.
Rowson admitted he had drawn an anti-Semitic cartoon, but said he had "not been aware I was doing so". He said when he saw the cartoon "for what it was", he was "consumed with deep, devouring shame".
Prof Holtschneider said: "He understood after he'd been educated about what was problematic about how he portrayed the Jewish MP and he came back and apologised. "
What she worries about, however, is the turning of the liberal left against Jewish people.
Former Labour Party leader Jeremy Corbyn was suspended three years ago for his reaction during his time as leader to a critical anti-Semitism report about his party.
"The biggest issue at the moment is that it's become very clear that the political left have become unwilling to think about Jews," Prof Holtschneider said, adding many Jews had previously found their "political" home in the left-wing parties.
Rabbi David Mason, chief executive of campaign group HIAS+JCORE, the Jewish voice on refugees and racial justice, agrees.
"It all comes down to the fear of the other and conspiracy theory," said Mason, who is originally from Edinburgh. "That, historically, has been something which is more about the Jew rather than the Jewish people in the sense of the Jew being in control and a malignant force in history or in the world. And that is on the both the left and the right.
"Jews could never get it right, because the left will say they're part of capitalist control, and the right will say that they're socialist communists. That has morphed in a way through the existence of the State of Israel. Often, very aggressive anti-Israel, anti-Zionism can be a cover for [aggression against] the Jewish people."
The Campaign Against Antisemitism points to figures that it says show even before October 7, Jewish people were, per capita, more than 500 per cent more likely to be the victims of hate crime than other faith group.
It cites a major increase in recent attacks against Jews in Britain, from personal intimidation on the street, doctors expressing "abhorrent views", children refusing to play football with Jewish peers and protests featuring anti-Semitic chants.
Mason said there was a difference between demonstrators criticising Israel's foreign policy and calling for a ceasefire in Gaza and those who were using the demonstrations to call for the erasure of the State of Israel.
"Criticism of Israel is important," he said. "I, myself, have been critical of the government of Israel and many Jews are very critical of the recent government of Israel.
"But while there is a criticism of Israel's doing, as there would be with another country that also might be behaving in a way that is problematic, this is connected with this obsession with Israel, which is underlined by an obsession with the Jewish people, and we've seen that play out in terms of the growth of anti-Semitism here."
He said he believed the geopolitical uncertainty in recent times had helped fuel anti-Semitism and a "weakening of democracy" in the Western world, as well as a rise in far-right populism, both in the US where groups such as Q-Anon rose up during the Donald Trump administration and in Europe, where hard right governments such as that of Giorgia Meloni in Italy have been elected.
"Q-Anon was big in America, and there's a straight line between conspiracy theories like that and anti-Semitism," he said.
Thomas Weber, chair in history and international affairs at the University of Aberdeen, described anti-Semitism as "the oldest hatred in the world".
"Why is it that something that first appeared on the banks of the River Nile two-and-a-half thousand years ago, keeps on coming back?" he asked.
"It's not constantly there, but it's an ebb and flow. Why is it that in certain moments, it comes to the fore so much? Then there's the other question of how it is now linked to the conflict in Israel and Palestine. That has a lot to do both with this very old story, but also with the identification, rightly or wrongly, of Israel with colonialism. In the first narrative, Jews are attacked as the 'other', and in the second, as us, as a colonial power."
Prof Weber pointed to an argument previously put forward by historian David Nirenberg.
"It is this idea that in a moment of crisis, when things are generally not going well for people and people are trying to make sense of the problems of the world, they look for existing explanations to which they can return to," he said. "They're looking for language to make sense of the perceived misery of the world. And I think that explains why at moments of crisis or perceived crisis, there's such a spread of anti-Semitism.
"It would be wrong to now somehow think this has all just been triggered by what happened on October 7, and by the responses to it, because I think what we're really seeing here is that for the last several years, there has been, worldwide, a sense has been brewing, that we're living in a world of crisis … where the kind of individual collective survival of people is at stake.
"At moments like that, people abandon their old political convictions and look for new explanations and it is particularly then when people resort to conspiratorial thinking."
Comments
Want to join the conversation? Please or to comment on this article.