Analysis: Why the Georgia charges are legally perilous for Donald Trump
Former president would be unable to use pardon power if convicted
Given the avalanche of criminal charges that have been brought against Donald Trump in recent months, it would not be unreasonable to lose track of the mounting legal woes facing the former US president.
The 77 year-old now faces 91 charges against four criminal cases, the most high profile of which is the so-called 'insurrection' case brought forward by Jack Smith, the special counsel appointed by the US Justice Department. After nearly a quarter of a millennium in which no American president or former president had ever been indicted, Mr Trump is upending convention at a dizzying pace.
Observers on this side of the Atlantic would therefore be forgiven for presuming the latest indictment, brought by Fani Willis, the district attorney in Georgia's Fulton County, as relatively insignificant. In part, that is understandable; Mr Trump has grown his support among Republicans with each tranche of criminal charges, and it seems fanciful that the events in Georgia will move the political needle, even if prosecutors succeed in their aim of commencing a trial by March next year.
Legally, however, it is a different story. While Mr Trump denies the allegations against him, there is growing interest in the repercussions should he be found guilty of some, or all, of the 13 criminal charges against him. The reason is that the 98 page grand jury indictment was brought under the so-called RICO act, legislation first enacted in 1980 to target criminal enterprises. There is a federal equivalent of the so-called 'mafia busting' law that has been used to convict notorious mob bosses such as Vincent Gigante and John Gotti, and the Georgia legislation is broadly similar.
The indictment is rich in detail of the alleged offences that have taken place, including election fraud, soliciting state officials to violate their oaths, forgery, impersonating public officers, and illegally accessing computer records. Just as important, however, is the scope of the 41 counts, which in their entirety, allow prosecutors to present a broad, overarching narrative of criminal conspiracy.
Crucially, the state law employs a wider definition of racketeering, and requires less proof to bring a successful prosecution; in order to demonstrate that a "pattern of racketeering" took place, prosecutors will only have to prove that two crimes out of an array of offences - including witness tampering or perjury, theft, and bribery - took place. In short, officials in Georgia will be tasked with demonstrating that a criminal enterprise existed in connection with the attempts to undermine the election result, and that Mr Trump was part of that enterprise, even if he personally did not break any laws.
Morgan Cloud, a law professor at Emory University in Georgia, said the statutes were written in a way which reached "far beyond" their ability to tackle organised crime. "They define racketeering as being a specific set of crimes that are committed in certain ways, and they add up to racketeering, whether you're working for a Fortune 500 company, or you're the president of the US," he explained.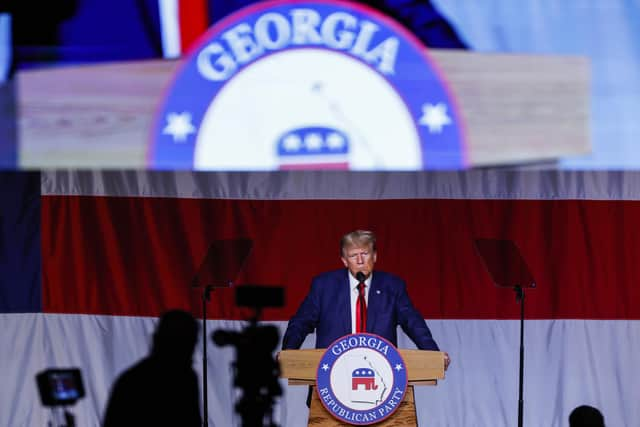 It is worth noting that while he is one of 19 co-defendants in all - the others include Mark Meadows, Mr Trump's former chief of staff, and his former lawyer, Rudy Giuliani - not all of them could stand trial; the prosecutors may look to entice some of the co-defendants into testifying against the others.
In theory, such leeway means the Georgia case against Mr Trump could be easier to prosecute compared to the federal cases. The consequences of that could be earth shattering; in Georgia, the RICO act carries prison terms of between five and 20 years, or fines totalling nearly £200,000. But the latest indictment is significant in other ways.
Given Mr Trump is accused of a series of state offences, he would be unable to rely on the power of a federal pardon if he is found guilty and re-elected next autumn. Glenn Kirschner, a former US attorney turned legal analyst, who has prosecuted several federal RICO trials, explained: "If Donald Trump is convicted in Georgia, no president can pardon him, because presidential pardons cannot be used to pardon state crimes.
Similarly, unlike the majority of US states, the governor of Georgia - the incumbent is Brian Kemp, a Republican - cannot grant a pardon or commutation. That authority lies with a five-strong board appointed by the governor, which is currently led by Terry Bernard, a former Republican state legislator.
But even then, Mr Kirschner pointed out that there are "lots of restrictions" facing the board could pardon anyone. "They have to be tried, they have to be convicted, and they have to serve their sentence," he added. According to Georgia state law, the board can only grant a pardon five years after a sentence has been completed, with a further condition that the individual in question has not again fallen foul of the law. "There is no escape hatch for Donald Trump, at least not based on the pardon power."
There is speculation that Mr Trump's legal team will seek to move the case to a federal court, a step Mr Meadows has already taken, having argued that the charges stem from his conduct as an officer of the federal government. Given nearly three quarters of voters in Fulton County backed Joe Biden in 2020, that could provide Mr Trump with a more sympathetic jury.
It is also expected that in any event, Mr Trump's lawyers will try and delay the case until after the election, when they could argue that a sitting president should not face trial. Indeed, it is possible that any jurisdictional arguments around 'removal' of the trial to federal court could cause such a delay, and go all the way to the US Supreme Court. Such questions will no doubt intensify in the weeks and months ahead, but as things stand, events in Georgia represent a serious problem with Mr Trump.
Comments
 0 comments
Want to join the conversation? Please or to comment on this article.