OpenAI: Why Sam Altman departure to Microsoft matters - six thing we learned from ChatGPT creator fallout
Under the leadership of Sam Altman, OpenAI has become a major tech player after the widespread take-up of ChatGPT, its artificial intelligence-powered chatbot that is used by around 100 million people around the world every week.
He, and the firm, looked set to build on that extraordinary success. But without warning, he was unceremoniously ousted on Friday, only to join Microsoft on Monday. Here are six things we have learned about the breakneck developments at OpenAI, and why they matter.
A board at odds with Altman's commercial vision led to his dismissal
In a brief statement, the directors of the non-profit entity that governs the OpenAI said they had "concluded that he [Mr Altman] was not consistently candid in his communications with the board, hindering its ability to exercise its responsibilities". Analysts who have picked through that line have arrived at their own conclusions. Victoria Scholar, head of investment at Interactive Investor, said scientists on OpenAI's board were concerned about the company's pace of expansion.
At least two of the board members have ties to the Effective Altruism movement that has pushed for AI safety research and expressed concern that AI could destroy humanity. For his part, Mr Altman prioritised transforming OpenAI into a thriving business, pursuing the likes of consumer applications that have turned ChatGPT into a global phenomenon. There is, of course, nothing wrong with that. The issue is the speed at which Mr Altman – the latest tech wunderkind to champion Silicon Valley's mantra of moving fast and breaking things – was pursuing profitability.
Altman will remain a key figure in AI
An ousted Mr Altman barely had time to clear his desk at OpenAI before he and Greg Brockman, the firm's president and co-founder, were hired by tech giant Microsoft to helm a team conducting artificial intelligence research. The move ensures he will remain a pivotal figure in the rapid – some say too rapid – development of AI, although there will be questions about the autonomy he receives as part of such a major multinational.
There is a political, as well commercial, element to Microsoft's decision. The company is a significant investor in OpenAI, having put around £10.4 billion into the firm, and its hiring of Mr Altman has been framed by some tech commentators as an attempt to douse unrest of Altman's unceremonious dismissal. Can Microsoft have its cake and eat it? Time will tell.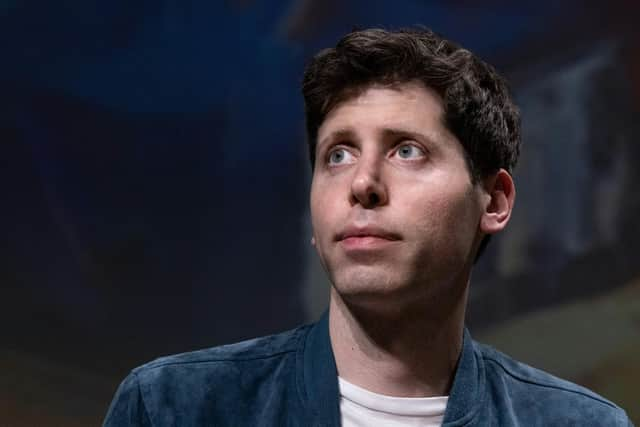 Microsoft well placed to become AI global leader
A statement issued by Satya Nadella, Microsoft's chief executive, stressed the firm remained committed to its partnership with OpenAI, and that it looked forward to working with the company under Emmett Shear's leadership. But there are growing concerns the fast-paced developments could deepen the crisis facing OpenAI, and play into Microsoft's hands. It is expected the talent exodus from OpenAI will continue, with Mr Nadella's statement noting Mr Altman and Mr Brockman were joining "together with colleagues".
Either way, Microsoft's hires represent a coup. The company has already embedded new generative AI technology into products such as Word, Powerpoint, Outlook and Bing. It is also moving at pace to roll out Windows Copilot, an AI-powered intelligent assistant. With Mr Altman and Mr Brockman now on board, the company has a golden opportunity to expand and refine its use of such technologies.
OpenAI faces an uncertain future
It is too early to say whether the disruption at OpenAI represents the kind of growing pains associated with immensely successful tech firms, or something altogether more serious. The immediate challenge facing the firm, which has appointed Emmett Shear, the former chief of game streaming company Twitch, as its interim CEO, is a loss of talent that threatens to undermine its commercial potential.
Not only can it no longer rely on Mr Altman – seen by many as the poster boy of AI's astonishing rise in recent years – but it also faces losing other key staff. Several senior researchers deemed integral to the firm's operations are reported to have quit since Mr Altman was fired, including Jakub Pachocki, a co-inventor of GPT-4, the most advanced AI system used by OpenAI. It will not be easy to replace people of that calibre, and it is no surprise that several OpenAI staffers have taken to X to post the same simple message: "OpenAI is nothing without its people."
The tensions in OpenAI's structure have been exposed
If there is one clear take-away from the chaotic events, it is OpenAI's complex governance structure is problematic and, arguably, incompatible with the breakneck success it has enjoyed with ChatGPT. Famously, the firm is a non-profit organisation, formed with the vision of developing AI that would not only be safe, but beneficial for all of humanity. Such utopian goals set it apart from commercially-driven ventures.
But four years ago, Mr Altman, Mr Brockman and its chief scientist, Ilya Sutskever, founded Open AI LP, a for-profit entity that sits within the parent firm's corporate family. That allowed the likes of Microsoft and venture capitalists to inject billions of pounds into the firm and, ultimately, allowed it to create ChatGPT.
The tensions between those two camps were evident at the weekend, when at one point, it looked like Mr Altman was about to be reinstated at the behest of aggrieved investors. If OpenAI is to recover and prosper, it will need to find a way of squaring that particular circle.
The wider conflicts around AI are far from being resolved
For all that the story of Mr Altman's sudden and messy divorce from OpenAI is being framed as a business story, it also betrays the ongoing stresses that underpin its flagship technology. For years now, AI has been viewed as both the greatest business opportunity of the 21st century, and an existential risk that could lead to the demise of society unless subjected to rigorous checks and balances. With the extraordinary success of ChatGPT, those tensions have only grown and, as the weekend's developments show, it is not easy to find a middle ground.
Comments
 0 comments
Want to join the conversation? Please or to comment on this article.