Analysis: Donald Trump invites further 'American carnage' with debt default remarks
Former US president backs move that experts warn would be disastrous for the global economy
It should come as no surprise that Donald Trump's townhall with CNN has been generating headlines. The former US president touched on a host of topics, rehashing his claims of election fraud, and mocking the civil case that has left him on the hook for £4 million in damages for sexual abuse and defamation.
But even by Mr Trump's brash standards, one issue stood out. Namely, his suggestion the US should default on its debts unless Democrats agree to vast spending cuts. It is a crisis that has engulfed Washington, with critical talks on raising the £25 trillion cap, which would allow the US government to borrow more, at an impasse. As things stand, the US could default as soon as June 1.
Were such a scenario to come to pass, the consequences would be felt far and wide. In the US, markets would plunge, potentially triggering a recession. Such is the structure of global markets, which trade around £400 billion in US debt every day, the pain would not simply be felt stateside. Indeed, on Thursday, Janet Yellen, the US treasury secretary, said unless the debt limit is raised, it could trigger a global economic downturn.
How so? Well, if it becomes more expensive for the US government to borrow money, it becomes more expensive for everyone, with interest rates around the world bearing the brunt. Even on the other side of the Atlantic, people already struggling with inflation and the cost-of-living crisis could be hit hard by rising costs on mortgages and car loans.
So why is Mr Trump advocating a strategy that many experts believe would result in a cataclysmic economic picture? One exchange during the CNN event dropped a broad hint as to his thinking.
At one point, he was challenged on his views by the host, Kaitlin Collins, who pointed out that during his time in office, he said that using the debt ceiling as a negotiating wedge couldn't happen. "So why are you for it now?" she asked. Mr Trump, delivering a line that drew laughter from the largely Republican audience, said: "Because now I'm not president."
The inference drawn by many critics is Mr Trump would be content to see the US turn into a bin fire if it meant that voters usher out Joe Biden from the White House next November, and install him in his place. His remarks will also exert pressure on Kevin McCarthy, the speaker of the House of Representatives. Mr McCarthy may be a Republican, but he is in a precarious position, and relations between him and Mr Trump are strained.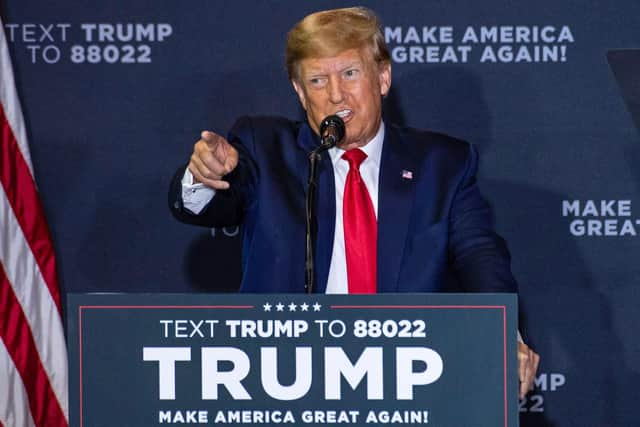 Is Mr Trump's game plan reckless? Yes. Is it selfish? Undoubtedly. Is it disingenuous? Well, if you consider the inconvenient fact that during Mr Trump's time in office, the US national debt went up by £6.2 trillion – the third largest increase, relative to the size of the economy, of any presidential administration – you have your answer.
All eyes will now turn to the US Congress to see if an agreement can be reached. But make no mistake, the intervention from the man who once called himself the "king of debt" will concentrate minds.
Comments
 0 comments
Want to join the conversation? Please or to comment on this article.