If Donald Trump is defeated by Joe Biden at the US Election next month his parting gift to the US people will be Amy Coney Barrett.
The veteran judge is all but certain to be confirmed as a Supreme Court Judge on Monday, despite protests from Democrats.
Already a divisive figure, Coney Barrett, will take the place of reliable Liberal vote Ruth Bader Ginsburg who passed away on September 8.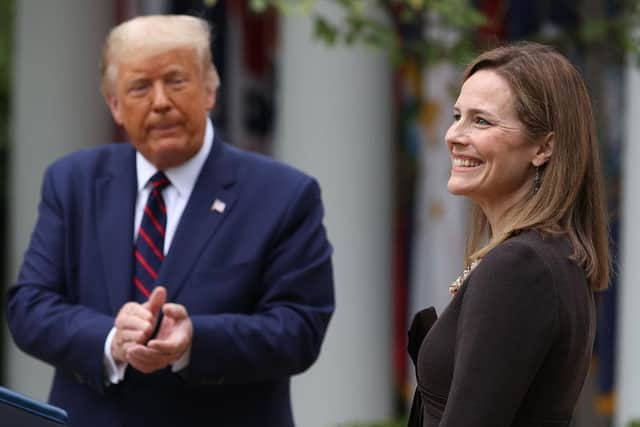 The substitution of the liveral icon for a conservative figure will further tilt the supreme court to the right and could have a long-lasting impact on American politics.
Here's everything you need to know about Coney Barrett ahead of her confirmation.
Who is Amy Coney Barrett?
Renowned as one of the sharpest minds in American law, Amy Coney Barrett was born in New Orleans, Louisana, the oldest of seven children.
Raised as a conservative catholic, Coney Barrett would study English Literature at Tennessee's Rhodes College before beginning her long-term affiliation with Notre Dame College, graduating from the Indiana college in 1997.
She would begin her career as a clerk on the District of Columbia circuit for Laurence Silberman of the United States Court of Appeals, before performing the same role with Supreme Court judge and Conservative icon, Antonin Scalia.
In 2002 she would return to Notre Dame Law School as an assistant professor before emerging as an expert on federal courts, constitutional law and statutory interpretation at the school.
A respected figure at the college, she has been named Distinguished Professor of the Year on three occasions.
In 2017 she was nominated onto the court of appeals for the states of Indiana, Wisconsin and Illinois by President Donald Trump.
What her confirmation means for the Supreme Court?
The Supreme Court is charged with having the final say on landmark cases in the United States
If Barrett is confirmed – which is all but guaranteed – the makeup of the Supreme Court will shift from five conservatives and four liberals to six conservatives and three liberals, with judges retaining their role for life.
Barrett represents a guaranteed conservative vote on topics from healthcare to immigration, which would allow the right of American politics to have greater influence on everyday American life.
Liberals are concerned that a conservative dominated Supreme Court could see gains made on issues like the climate emergency, abortion and same-sex marriage wiped out.
Amy Coney Barrett is well known for her staunch Conservative beliefs.
She is known for her stance as an originalist, meaning she interprets the constitution as intended by its authors, with liberals arguing that US law should be interpreted with the times.
Coney Barrett is an outspoken critic of abortion and gay marriage, a stance which has made her popular with America's religious right.
In 2006 she signed an ad placed in a South Bend newspaper which read: "We, the following citizens of Michiana, oppose abortion on demand and defend the right to life from fertilization to natural death. Please continue to pray to end abortion."
The conservative figure is closely affiliated with People of Praise, who have been criticised by LGBT groups for stating that sexual relations should only occur between married heterosexual couples.
Coney Barrett is also a critic of President Obama's Affordable Care Act, voicing concern at the act providing religious institutions with birth control without them being required to pay for it.
On the use of firearms, Coney Barrett has argued that non-violent offenders should not lose their constitutional right to own a firearm.