Alexei Navalny: why the Russia and Putin critic was arrested in Moscow - plus Novichok poisoning explained
The Kremlin critic was with his wife when he was arrested on Sunday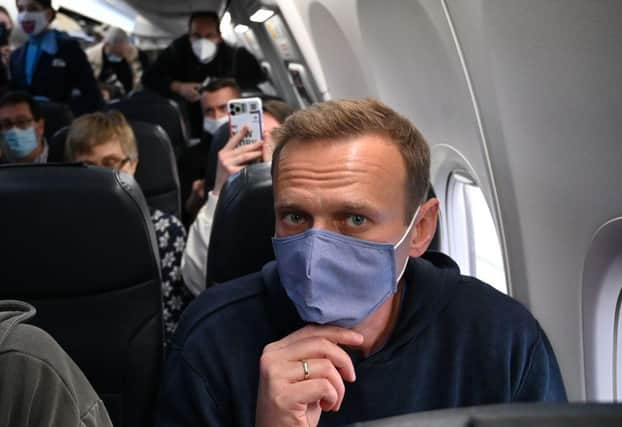 The arrest has been met with outcry from the international community, with several British MPs criticising the Russian government.
Cabinet minister Dominic Raab tweeted: "It is appalling that Alexey Navalny, the victim of a despicable crime, has been detained by Russian authorities. He must be immediately released.
"Rather than persecuting Mr Navalny, Russia should explain how a chemical weapon came to be used on Russian soil."
Why was Alexei Navalny arrested?
Prior to Mr Navalny's arrival at Moscow's Sheremetyevo airport, Russia's prisons service said the 44-year-old has violated parole terms from a suspended sentence on a 2014 embezzlement conviction.
Officials said he would be held in custody until a court rules on his case.
Tom Tugendhat, the foreign affairs select committee chairman, said Russia's justification of Mr Navalny's arrest was "designed to deceive".
"Navalny missed probation hearings because he was recovering after the same Putin officials who ordered his arrest tried to murder him," the Conservative MP tweeted.
"If he gets beaten up and there are marks on the weapons, they'll charge him with damaging Government property."
How was Alexei Navalny poisoned?
On August 20, the 44-year-old felt unwell on a flight back to Moscow from Tomsk, a city in Siberia.
After falling violently ill, Navalny was placed in a coma.
He was evacuated to a Berlin hospital where he recovered and was discharged from on September 22.
Organisation for the Prohibition of Chemical Weapons (OPCW) confirmed that Navalny had been poisoned with the nerve agent Novichok.
A joint investigation by Bellingcat and Insider implicated the FSB, Russia's federal security service, in the poisoning. In reaction to the investigation Navalny tweeted: "Case closed. I know who tried to kill me. The case concerning my murder attempt is solved. We know the names, we know the job ranks, and we have the photos."
Russian president Vladimir Putin has denied the FSB's role in the poisoning.
On December 21, Navalny recorded a telephone call with a man he claimed to be FSB agent Konstantin Kudryavtsev. Posing as an aide to secretary of Russia's Security Council Nikolai Patrushev, Navalny apparently tricked Kudryavtsev into confessing that Novichok has been applied to the inner lining of the opposition leader's underwear.
Mr Navalny is one of the most prominent opposition figures in Russia and campaigned to challenge Mr Putin in the 2018 presidential election, but was barred from running.
He has gained prominence in Russia politics for his opposition to corruption, Vladimir Putin and the ruling government.
In 2011 he was imprisoned for 15 days after protesting against vote rigging allegedly carried out by Putin's United Russia party.
He ran in the 2013 Moscow mayoral election, finishing second to a Putin appointee. Navalny has since claimed that he received more votes and the election was subject to fraud.
Navalny has been arrested on several occasions, receiving suspended sentences for embezzlement on two occasions, both of which supporters of Navalny claim to be fabricated.
Mr Navalny had dye thrown in his eye in 2017 suffering a serious chemical burn as a result, but it's unclear who carried out the attack.
Mr Navalny's Foundation for Fighting Corruption has focused on exposing sleaze among government officials, but last month he had to shut the organisation after a financially devastating lawsuit from Yevgeny Prigozhin, a businessman with close ties to the Kremlin.
Mr Navalny has also been accused by Belarus's authoritarian leader Alexander Lukashenko of organising the mass protests against his rule in recent days following an election which has been widely criticised as rigged.
Wall Street Journal described Navalny as "the man Vladimir Putin fears most".