Wildfire danger: Two firefighters injured as giant week-long blaze continues to burn in the Highlands
People are being warned to take extra care in the countryside as a large wildfire that injured two firefighters in the Highlands continues to burn after a week.
Two injured firefighters have been air-lifted to hospital during an operation to battle a giant wildfire which has been raging in the Highlands for a week.
The fire broke out at a farm near Cannich, west of Loch Ness, last Tuesday and has since engulfed hundreds of hectares of open hillside and woodlands.
A helicopter and several fire engines have been brought in to help tackle the blaze, with two more helicopters on their way to help water-bomb the site.
Staff at Forestry and Land Scotland (FLS), which owns much of the affected site, have been working with Scottish Fire and Rescue Service (SFRS) teams and neighbouring landowners in a bid to stop the flames spreading and help protect nearby property.
A spokesperson for SFRS said: "We were alerted at 12.46pm on Sunday, 28 May, to reports of a fire in the open at a farm near Cannich, Beauly.
"Operations Control initially mobilised one fire appliance, increasing to nine appliances including specialist resources.
"At 5.37pm on Monday, 29 May, a helicopter was brought in to water-bomb the wildfire.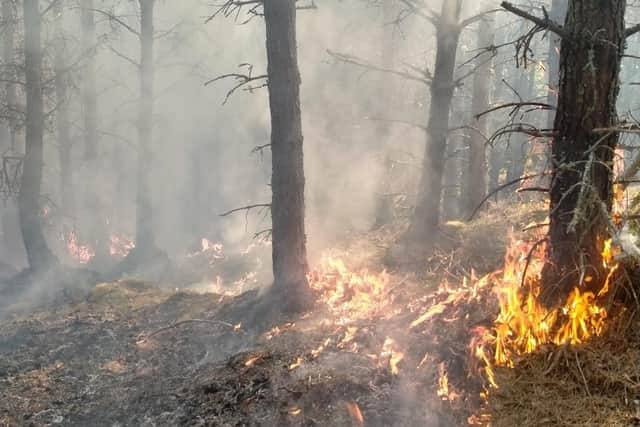 "As of Tuesday, 30 May, we currently have five appliances on the scene, where firefighters are continuing to extinguish the fire and prevent further fire spread."
The cause of the blaze is not yet known, but has been associated with wild camping.
Campfires are strongly discouraged at any time of year and in any location, but land managers are urging people to take extra care in the outdoors due to "tinder-box" conditions across Scotland after a very dry spring.
Alex MacLeod, north region manager for FLS, said: "Many people are enjoying being out in the countryside to enjoy the hot weather, but the lack of rain recently has made much of the countryside tinder-box dry.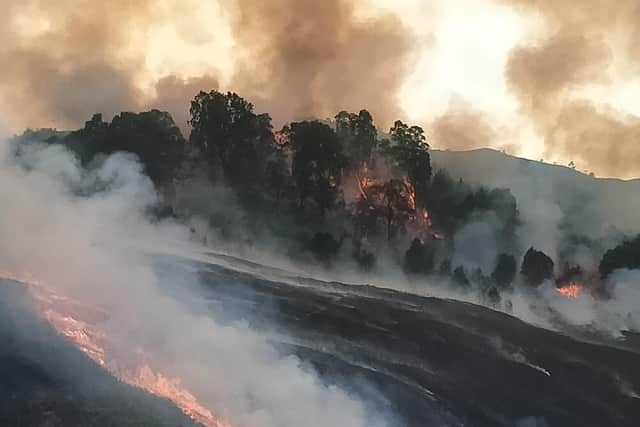 "Camping stoves are clearly recommended as being a better option than campfires, but when the weather has been as hot as it has, and the ground is as dry as it is, neither are advisable.
"Regardless of how it started, this particular incident is a sobering reminder of how easily and quickly a wildfire can take hold and become a major problem.
"Visitors need to be aware of their surroundings and their actions, take extra precautions and extreme care.
"Dealing with incidents like this places unnecessary pressure on the emergency services, puts people's safety at risk, and destroys habitat, which causes extreme distress to the wildlife that was here.
"It's difficult to say what the extent of the damage is, but we know it affects a significant area."
A similar incident took place in Tentsmuir Forest in Fife on Thursday last week, when a campfire started a wildfire that was attended by SFRS crews from three areas.
Access difficulties meant helicopter assistance was needed to help douse the flames.
Firefighters continued to deal with smouldering hotspots on Friday evening and Saturday morning.
A wildfire warning was issued last week, ahead of the recent bank holiday weekend, as temperatures soared across the country.
Warmer weather is still to come, with highs of 25C – the UK's hottest day this year so far – forecast for Wednesday in parts of western Scotland.
Comments
 0 comments
Want to join the conversation? Please or to comment on this article.