A warning for wind is in place in the north of Scotland, with a rain warning in place for much of the country until 7pm tonight. The warning covers Clackmannanshire, Falkirk Perth and Kinross, Stirling, Highlands and Eilean Siar, Dumfries and Galloway, Scottish Borders, West Lothian, Argyll and Bute, East Ayrshire, East Dunbartonshire, East Renfrewshire, Glasgow, Inverclyde, North Ayrshire, North Lanarkshire, Renfrewshire, South Ayrshire, South Lanarkshire and West Dunbartonshire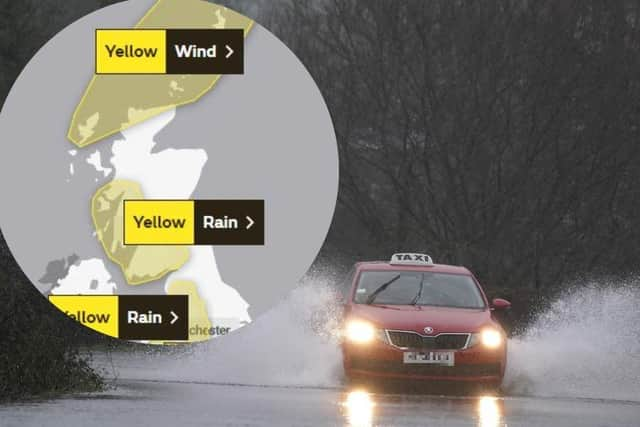 The Met Office has said "some disruption" is expected in these areas, including "flooding of a few homes and businesses", "spray" on the roads, increased journey times on public transport, and "possible" power cuts.
Meteorologist Alex Deakin described the overall forecast for Tuesday as "a rather dull and damp affair" featuring "gusty winds".
Mr Deakin said: "The rain will be spreading its way through eastern England and then through Scotland.
"There will be heavy and persistent rain for north-west England and parts of Wales, and, because it has been so wet recently, this extra rain could cause some issues, so we do have Met Office yellow warnings in place."
He added: "For many it will feel milder than Monday, but there is more wet and windy weather to come through the evening across Wales and western parts of England.
"Rapidly that band of rain should sweep across England and Wales, leaving clearer skies for a time but also plenty of showers coming in."
More than 140 flood warnings have also been issued across Britain by environment regulators, because saturated ground caused by recent wet weather means that even areas which avoid the worst of Tuesday's deluge could be at risk of flooding.
The Environment Agency, which covers England, has issued 29 warnings, mostly clustered in Dorset where flooding is "expected", along with 90 alerts across the country, where flooding is "possible".