High pressure centred over Scandinavia is sheltering the country from easterly winds hitting England and Wales.
And the Met Office says today's high of 20C (68F) is just a taste of the fine conditions we can expect for the rest of the week.
Forecaster Craig Snell said: "It has been a slow start to the year for the UK, as far as temperatures are concerned.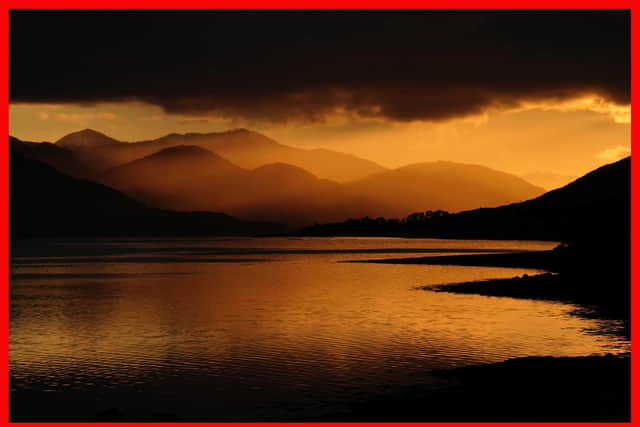 "The 2023 high so far was recorded in Suffolk on March 30 at 17.8C (64F). Scotland's high is 17.3C (63F) seen at Kinlochewe in Wester Ross on April 8.
"But on Monday, we expect the mercury to hit 20C (68F) somewhere on the Moray Firth, such as Lossiemouth, which would make it the UK's warmest day of the year so far.
"This won't be beaten by anywhere in England and Wales, where a breeze is keeping things down.
"It's a typical set-up for spring, where the north west of the UK is usually the place to be in the shelter.
"Looking ahead to the rest of the week, it looks like Scotland will be in that sweet spot right up to next weekend."
Mr Snell said the "only fly in the ointment" is the possibility of some morning haar coming in from the North Sea but this will only affect the far east coast.
Tuesday will see the best of the weather shifting westwards into the Highlands and then to the west coast.
He added: "Anyone who has taken time off this week and plans to spend it in western Scotland will be laughing all the way to the beach."
The weekend drew thousands out to parks and sea fronts. On Saturday, Loch Lomond and the Trossachs National Park said the status of four of its car parks had turned "red" by early afternoon, suggesting there were "very few or no spaces left".
Scotland would also appear to fare best in the UK in the long range weather forecast from the Met Office for the second half of April and even well into May.
For the 10-day period from April 20, it states: "High pressure is likely to remain centred to the north or northeast of the UK through late-April, leading to a fair amount of fine and dry weather persisting."