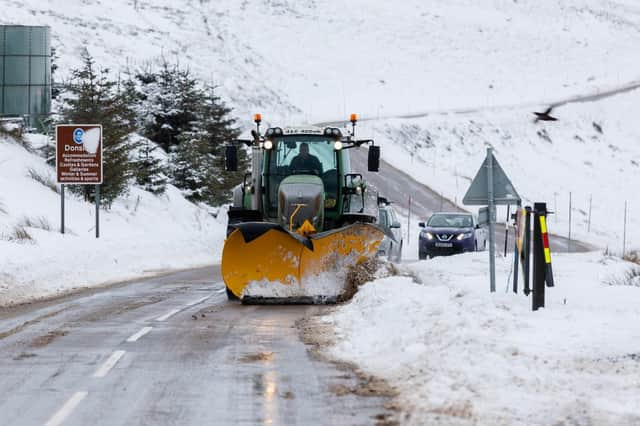 Snow is still lying across many rural areas and, this, coupled with heavy downpours could create difficult conditions on the roads plus a potential flooding risk to homes and businesses.
The Met Office warning period begins at 2pm on the last bank holiday of the festive season and stretches into Wednesday morning, just as people are returning to work.
"It's not the best bank holiday forecast," said Craig Snell, a Met Office forecaster.
"We are not talking about record levels of rainfall but, coming after a very wet period and the addition of snow melt, we are expecting to see some impacts.
"It appears the worst of the rain will be over by 6am on Wednesday morning but rain can take time to work its way through the system."
Yesterday morning saw a low of Minus 9.1 at Kinbrace in Sutherland but today sees milder air moving up from the south west, raising temperatures quickly and significantly.
After lows of 2C to 4C in most towns and cities yesterday, the mercury will rise as high as 9C in the south today and possible 11C tomorrow.
The danger areas for rain centre on two large locations north and south of the Central Belt. Accumulations of rain could be 15-25mm quite widely but as much as 50mm on western hills.
The Met Office warnings suggest some homes and businesses could be flooded and journey times are likely to be extended as a result.
Yesterday, road operator BEAR North West said its gritters were out from early afternoon to combat snowy conditions on the A82, A87 and A887.
Also in the north west, the A835 was still like a winter wonderland as traffic passed the Aultguish Inn.
Landscape photographer Rob Coffey was at Loch Droma, between Inverness and Ullapool, where the loch was frozen as temperature had been nudging -10 on New Year's Night.
He said: "It is absolutely stunning here today, so myself and a couple of other photographers came out to catch the frozen loch before it melts as the weather is supposed to get warmer in the next few days."
Police Scotland warned drivers of adverse weather conditions affecting the A199 at Haddington, where a collision was reported, and the B6374 at Gattonside in Melrose.
Flooding has already damaged part of the West Coast Mainline – meaning no trains will run between Carlisle and Glasgow until Friday.
The rail company said an embankment beneath the railway was significantly damaged during extreme weather on December 30 and requires "extensive work to stabilise and repair the foundations of the tracks to allow the railway to safely reopen".
It said engineers are working to remove landslip material on a 40m-long section of the line and reinforcing it with more than 200 tonnes of new stone.
They will then relay the track above and check signalling systems, which they said will take several days to complete.