Passengers onboard an EasyJet flight from Reykjavik to Manchester were even gifted a perfect view on Monday night, as the pilot made a 360-turn to ensure they could see the aurora.
The north of Scotland was the best place to spot the Northern Lights over the last few days, however, there were sightings in Stirling, Edinburgh and the west coast of the country throughout Sunday evening.
Grahame Madge, a spokesperson for the Met Office, said: "Over the last few nights the Northern Lights have been a spectacular event over parts of the UK, even including spots in southern England.
"The levels of solar activity are now reducing and this combined with increasingly cloudy skies mean that the chances of a sighting are now severely limited."
However, Mr Madge added that as the natural spectacle diminishes, keen stargazers may still be able to spot a glimpse of the lights tonight from the coast of north-west Scotland.
Head of space weather at the Met Office Mark Gibbs explained that the clarity of the northern lights on Sunday night was the result of a perfect combination of a cloud-free sky, clear air, and a dim moon.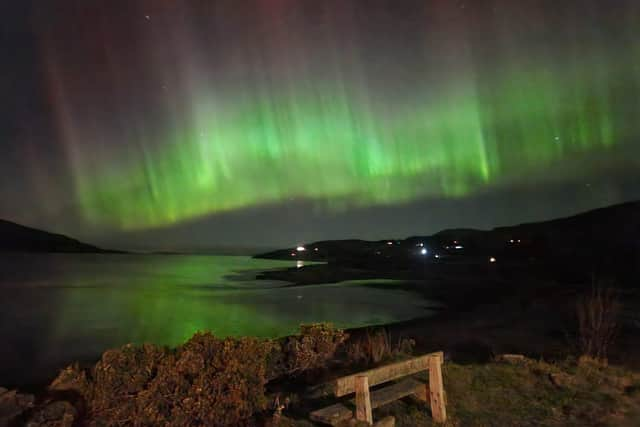 The activity over the past few days was the result of a large solar storm, which Mr Gibbs said was not unusual for this point in the solar cycle.
"What we saw (on Sunday) was a bubble of magnetised plasma particles that had come off the sun, and they happened to be heading towards the Earth in this instance," he said.
"It took about two days for those particles to arrive from the sun, then the particles enter the Earth's upper atmosphere and excite atoms.
"The most common sight is green, which is the result of oxygen atoms being excited. (On Sunday) night we saw some reds and purples, indicative of nitrogen atoms being excited."