Hurricane Laura: the category three storm's path as it brings 150mph winds to Louisiana - and if it could impact UK weather
Half a million residents were evacuated from their homes in Louisiana and Texas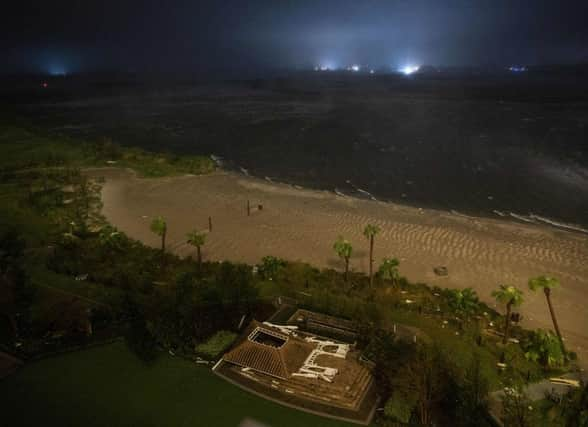 Hurricane Laura has made landfall in Louisiana bringing wind speeds of up to 150mph with storm surges of more than 20ft possible.
The storm's arrival has been prefaced with severe warning from weather experts with National Weather Service meteorologist Benjamin Schott describing potential storm surges as "unsurvivable".
Half a million residents in the Gulf Coast states of Louisiana and Texas have been told to evacuate.
Texas Governor Greg Abbott warned citizens to evacuate describing the power of the hurricane as "unprecedented".
If Hurricane Laura maintains its current strength it could be one of the strongest storms to strike the Gulf Coast.
What is Hurricane Laura's path?
Hurricane Laura made landfall at 5am (GMT) on Thursday near the district of Cameron, in Louisiana.
Cameron is located approximately 200 miles west of New Orleans and 130 miles east of Houston, Texas.
When it made landfall the storm was a category four hurricane, but as it has progressed through Louisiana, Laura has been downgraded to category three.
Despite the downgrade the storm continues to batter Louisiana with sustained winds of up to 120 mph. It's expected to weaken as it continues inland.
The eye of the storm is expected to straddle the Louisiana-Texas border for much of Thursday, reaching Arkansas later in the day.
From there the storm will curve northeast brushing Tennessee, Missouri and southern Indiana, before hitting the northeast states on Saturday by which time it should have weakened considerably.
What damage could Hurricane Laura bring?
The National Hurricane Center (NHC) said that the "formidable" Hurricane Laura would threaten towns with "life-threatening hazards".
Homes could be damaged and without electricity and water for days or weeks, while trees could be uprooted by the power of the storm.
Storm surges of more than 20ft are also possible along the Louisiana coast according to forecasters. This surge could move 40 miles inland with flood waters staying in the area for days.
The NHC warned that the large and destructive waves of a storm surge would cause "catastrophic damage".
Is it more powerful than Katrina?
This month marks 15 years since Hurricane Katrina decimated Louisiana, leaving death and destruction in its wake.
When Katrina made landfall in 2005 wind speeds of 125mph were recorded - speeds that have been exceeded by Storm Laura.
The hurricane's force and flooding caused more than 1,800 deaths and roughly $151 billion in damage across the region.
Wide scale failures of the levee system protecting New Orleans left 80 per cent of the city under water.
Katrina's force caused a massive storm surge that wrought havoc on the Mississippi coast, pushed boats far inland and wiped houses off the map, leaving only concrete front steps.
Hurricane Laura comes a year after category 5 Atlantic hurricane Dorian made landfall with the Bahamas generating sustained wind speeds of 185mph