Heatwave Europe: Will the UK get hot weather because of Cerberus heatwave?
Scorching temperatures across Europe have left many in the UK wondering if we are likely to see a similar heatwave.
According to recent forecasts, warm weather overseas is, in fact, directing "cooler, unsettled" weather towards the UK, with 55mph gusts and heavy rain forecast for this weekend.
Southern Europe is sweltering under extreme heat, with warnings the Continent could see its hottest ever day in Italy, potentially nearing the 48.8C record and a second heatwave on the way.
Disgruntled tourists were yesterday bemoaning the temporary closing of the Acropolis in Athens as authorities shut the monument's gates between noon and early evening amid the heatwave.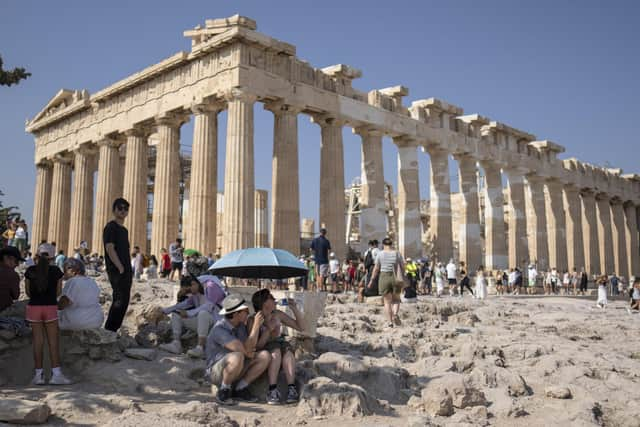 Red Cross staff were handing out bottled water to tourists wilting in long queues hoping to beat the closure and scale the steps up to the gleaming Parthenon temple as temperatures were expected to peak above 40C in the Greek capital.
But the UK is facing heavy wind and rain. A yellow Met Office wind warning was in place across south-west England and Wales until yesterday evening, before another warning covering swathes of central and southern England comes in this morning.
The Met Office has warned people to expect delays to road, rail, air and ferry transport as well as potential power cuts, large waves and damage to trees.
Forecasters say the Cerberus heatwave, which is hitting across holiday hotspots in the Mediterranean, could be behind the wet and windy weather.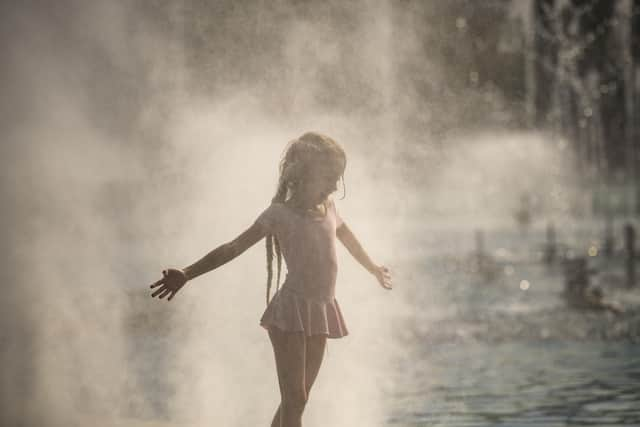 Met office spokesperson Nicola Maxey said: "A core of winds high above the Earth's surface had pushed high pressure southwards across Europe.
"While this has resulted in very warm conditions for parts of Europe, it has led to low-pressure systems being directed towards the UK, bringing more unsettled and cooler weather that we are currently experiencing here in the UK."
The weekend is likely to see heavy showers and gusty winds, forecaster Alex Deakin said.
"We'll be watching heavy showers zipping through on the gusty winds, but those winds could cause some problems, gusts across the Midlands, eastern and southern England likely to reach 45, maybe 50, perhaps even 55mph in some locations." He said the winds were "unusually strong" for summer and could cause some disruption.
"There'll be heavy showers to boot," he said. "Now those strong winds mean the showers will at least tend to move through fairly quickly, but they could drop a lot of rain in a short space of time or even turn into thunderstorms in places."
Temperatures will widely be in the high teens or low 20s, which is average for the time of year.
Tomorrow is expected to be less windy, but showers will continue for parts of Scotland, northern England and Northern Ireland, which will have a risk of thunder. Further south will see a mix of sunny spells and showers.
Rebekah Sherwin, expert meteorologist from the Met Office's global forecasting team, revealed the high temperatures across Europe have been driven by an established high pressure system that is sat across the affected regions.
Ms Sherwin said: "Heatwave conditions already occurring across much of southern Europe, north-west Africa and the Middle East are expected to continue through the coming week.
"Peak temperatures – which are around 10 to 15C higher than average – could reach the mid-40s in parts of southern Europe and up to 50C in parts of North Africa. Higher than average temperatures are also likely at times further north across Europe, but these will be shorter lived and less impactful.
"The high temperatures are being driven by an established high pressure system that is sat across the region, allowing temperatures to build day by day. Unusually high sea surface temperatures are also occurring across the region, with many parts of the Mediterranean seeing surface temperatures as high as 25 to 28C. This will exacerbate the effects of the heat over surrounding land areas, as even in coastal regions overnight temperatures are unlikely to drop much below the mid-20s.
"The southern shift of the jet stream that has pushed the high pressure southwards across this region has also led to low-pressure systems being directed into the UK, bringing more unsettled and cooler weather here than we experienced in June when the jet stream was at a more northerly latitude."
Across Europe, tourists and locals alike continued to battle the sweltering temperatures.
In Spain, people packed the beaches as the country enjoyed a short-lived respite from its second heatwave of the summer.
Temperatures were still expected to reach 40C in at least 12 of Spain's 17 regions yesterday, after a high of 45C scorched the south-eastern town of Albox on Wednesday.
The Aemet state weather agency said another heatwave was expected to start tomorrow with the highest temperatures yet to come.
In Italy, the health ministry warned residents of 15 cities to avoid being out in the midday heat due to extreme temperatures.
Temperatures are expected to reach 12C above average in some areas this weekend.
On Cyprus, people clustered under air conditioning units and cooling fans set to full blast, as noon temperatures inland were forecast to hit a high of 43C.
Temperatures were not expected to go below 25C through the night, while humidity levels, especially along the southern coastline, were expected to reach an uncomfortable 65 per cent.
The temperatures were forecast to hover at the same levels today, with a small dip expected the following day.
The Forestry Service issued a "red alert" regarding the fire hazard, appealing to the public to take extra care and avoid using any machinery outdoors that could spark a fire.
In the capital Nicosia, more than two dozen elderly people sought refuge at a dedicated heat shelter the municipality reserves for summer heatwaves.
Councillor Elena Loucaidou said many of the elderly who were on low incomes appreciated the opportunity to save on their electricity bill and enjoy the shelter's air conditioning.
The heat is taking a toll on the country's econ
Comments
 0 comments
Want to join the conversation? Please or to comment on this article.