Haar: What causes Scotland's sea fog, why is it happening and which areas are most likely to be affected?
Haar, the thick blanket of fog which rolls across coastal towns and cities in Scotland is an interesting natural phenomenon.
Coastal fog regularly occurs along the UK's East Coast between April and September each year, and in Scotland it's known as haar.
The chilly coastal mist can cause temperatures to plummet and reduce visibility, but what is haar, why does it happen and where can you expect to see it?
What is 'haar'?
Haar, or 'sea fret' as it is also known in North East England, is used to describe a cold fog that accumulates at sea, rather than on land.
The most common form of coastal fog occurs when warmer air meets the chillier temperatures of the North Sea.
It can often be seen across North East Scotland, and areas like Dalgety Bay, North and South Queensferry and Portobello.
Rolling over beaches and bridges the dense, thick wall of mist reduces visibility and has been known to ground flights or cause transport issues.
What causes haar?
When warmer air moves across the North Sea, cold air arising from the chilly sea's surface cools down the warm air – prompting the warmer air to lose its moisture and condense above the sea surface. This is known as advection fog.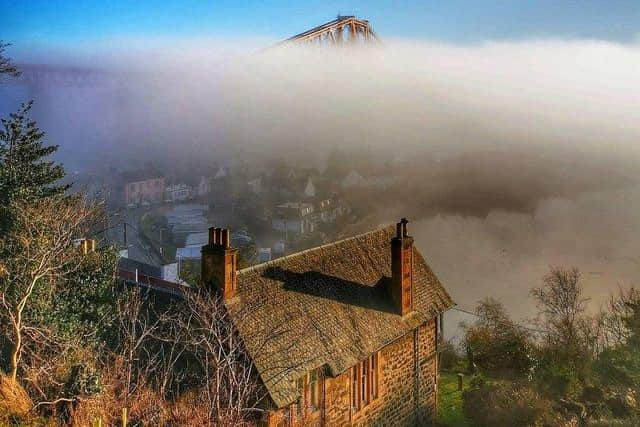 It is seen more commonly in spring and summer months as while the atmosphere and temperatures begin to rise, the sea takes far longer to warm up and mostly remains cold; particularly in the case of the North Sea.
It is typically directed inland by strong winds and will disappear when the sun shows up – something which can be challenging in Scotland.
What areas are likely to be affected?
As a typically easterly phenomenon, areas on the East Coast of Scotland and Northern England are usually the worst affected by haar.
On beaches in towns and cities like Edinburgh, Aberdeen and in the Kingdom of Fife, the dense mist is often seen rolling across shores during the early morning and early evening.
According to the Met Office, the severity and location of coastal fog generally depends on weather conditions such as wind strength and wind direction.
Comments
 0 comments
Want to join the conversation? Please or to comment on this article.