Get ready for Storm Minnie the Minx as Met Office unveils new names
Some of next season's storms will be named after those working to protect people from severe weather around the UK – as well as a Beano cartoon character.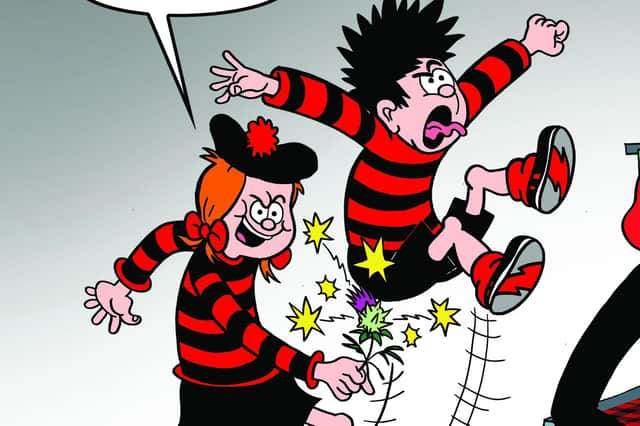 Debi Garft, who recently retired as senior policy officer in the Scottish Government flooding team, is in the list of names after helping to form the Scottish Flood Forum and the Scottish Flood Forecasting Service.
Another meanwhile is Minnie, inspired by Minnie the Minx from the Beano, after the inclusion of Storm Dennis in 2020.
A special feature on storms is expected to appear in a Beano issue this month.
Will Lang, head of situational awareness at the Met Office, said: "This is the ninth year of us naming storms and we do it because it works.
"Naming storms helps to ease communication of severe weather and provides clarity when people could be impacted by the weather."
Along with Met Eireann in Ireland and KNMI, the Dutch weather service, meteorologists name storms when they are expected to have a "medium" or "high" impact on people.
This helps communicate the seriousness of a storm to the public and helps people recognise what steps to take, the Met Office said.
The three organisations work together to compile the list of names before the following season, which runs from September to August.
Met Eireann wanted to include names of famous scientists, such as Jocelyn, named after astrophysicist Dame Jocelyn Bell.
KNMI's suggestions are submitted by the Dutch public during visits to the forecaster throughout the year.
This is the first year to break with the traditional male/female ordering of names so some of the more popular submitted names can be included, the Met Office said.
Ms Garft said: "It is important that we all take steps to protect ourselves, our family and property by preparing for extreme weather events.
"Checking the Sepa (Scottish Environment Protection Agency) flood maps to see if your property or business is at flood risk, signing up for free Sepa Floodline local flood warnings and regional flood alerts."
Comments
 0 comments
Want to join the conversation? Please or to comment on this article.