Firefighters have warned there is a very high risk of wildfires in many parts of the country over the bank holiday weekend.
The Scottish Fire and Rescue Service (SFRS) said at this time of year there is still a build-up of dead grass and heather left over from last year, which can dry very quickly as temperatures increase and pose a heightened risk of fire.
The "very high" warning – released in conjunction with the Scottish Wildfire Forum – covers east, central and southern Scotland and is in place from Friday until Monday.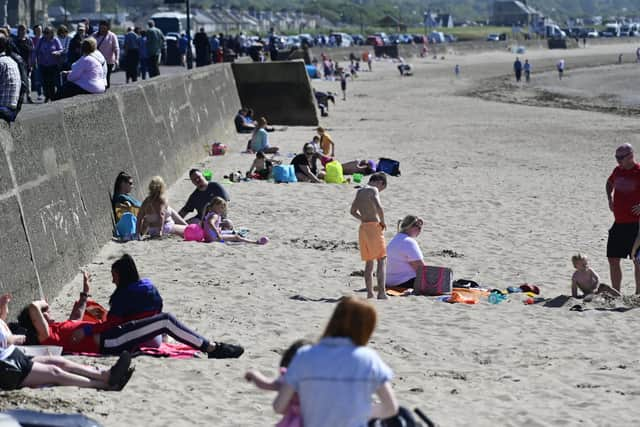 The warning comes with the UK forecast to potentially experience its hottest day of the year so far this bank holiday weekend, with temperatures expected to reach as high as 24C.
The Met Office said the area of high pressure, which has brought fine conditions across the UK over the last few days, is forecast to continue through the weekend and into next week.
The highest temperature of 2023 was recorded in Cardiff on Monday at a balmy 23.4C.
People in rural areas in Scotland are being urged to act responsibly and exercise caution over the next few days.
It comes as the Scottish Environment Protection Agency (Sepa) warns of water scarcity in some areas amid dry conditions.
SFRS group commander Niall MacLennan said: "Numerous wildfires across Scotland this spring, including a wildfire at Kinlochmoidart which spanned the course of three days, have shown how real the danger of fire is in the countryside and how damaging it can be to the environment, wildlife and nearby communities.
"With rising temperatures this weekend and further dry conditions into next week, wildfires could burn and spread with very high intensity in high-risk areas.
"Therefore, it is crucial that people act responsibly when enjoying the outdoors and please think twice before using anything involving a naked flame."
Meanwhile, Sepa said that alert level has been reached for the first time this year in its latest water scarcity report.
The area around Loch Maree in the Highlands has recorded very low river flows and dry ground conditions, meaning businesses abstracting water from the environment need to start thinking now about the volume they take and when they take it, or consider an alternative source, Sepa said.
The risk of water scarcity is categorised in four levels – early warning, alert, moderate scarcity and significant scarcity.
Areas in southern and central Scotland, and the majority of the north including the Western Isles, are also now in early warning status.
Nathan Critchlow-Watton, head of water and planning at Sepa, said: "With very little to no rainfall forecast across Scotland in the coming days, we expect ground conditions to continue getting drier and river flows to decrease or remain low.
"The next few weeks and months are a crucial time of year for water demand and we're urging abstractors to manage water wisely, minimising the need for restrictions to be imposed by Sepa."