"It is with deep sorrow that Her Majesty The Queen has announced the death of her beloved husband, His Royal Highness The Prince Philip, Duke of Edinburgh "
What is the protocol when a member of the royal family dies?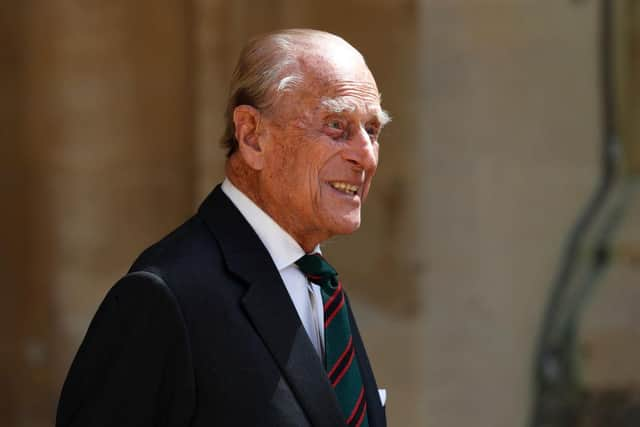 Royal family members are each assigned the name of a bridge to be used as a code word in the event of their death. Prince Philip's bridge is "Forth Bridge", with a corresponding "Operation Forth Bridge" plan of action for the event of his death.
The announcement of the death of a royal family member is given both in person, via a notice pinned to the gates at Buckingham Palace, and in the form of a newsflash sent to the world's media.
The Buckingham Palace website immediately changes its landing page to an image of the deceased member, with the dates of their birth and death, against a black background.
The website is currently displaying a tribute to the deceased prince.
To announce the death, news readers will generally wear black on air as a mark of respect.
The royal family, meanwhile, are required to take black clothes and armbands with them whenever they travel, to be worn in the event of a royal death.
What is the national mourning period?
The country will enter now enter a national mourning period. This is expected to last around eight days, and means:
- Flags will be lowered to half-mast, with the exception of the Royal Standard flag flying above Buckingham Palace as this flag represents the monarchy and is never lowered.
- Members of Parliament will don black armbands on their left arms, and in the case of male members, will wear black ties.
- The ceremonial 'mace', used in royal ceremonies, will be draped in black or given a black bow.
- Local governments will be asked to give 'careful thought' to continuing official business.
The royal family will cancel upcoming social engagements until the funeral, while the Queen will enter her own mourning period. During this time she will be unlikely to conduct affairs of state, which means laws may not be passed.
When will the funeral be?
It is not currently known when the funeral will take place.
As the Queen's consort, Prince Philip is entitled to a state funeral, but it is believed the prince had asked for a low-key affair.
This means he may not be given a full state funeral, but instead have a military funeral with a private service at St George's Chapel in Windsor and burial in Frogmore Gardens.
The last state funeral for a royal family member took place in 1952 after the death of King George VI who was buried in St George's Chapel.
The day of Prince Philip's funeral will likely receive national news coverage, though cameras will not be permitted to film the service itself.