UK planning U-turn on quarantine travel law, claims top QC
Controversial new quarantine laws that will see people arriving at Scottish airports ordered to self-isolate have been called into question after MSPs heard they are a "mess" and "unenforceable".
Leading QC John Scott also claimed the UK government is seeking a way to "get rid of" the new laws, which are aimed at preventing the spread of coronavirus.
The head of Police Scotland, Chief Constable Iain Livingstone, yesterday admitted he has "reservations" about the laws and potential strain it will place on relations with the public.
Meanwhile, travel and hospitality firms campaigning against the quarantine rules said they have received "private assurances" that so called "air bridges" – exempting arrivals from certain nations – will be introduced by the end of the month.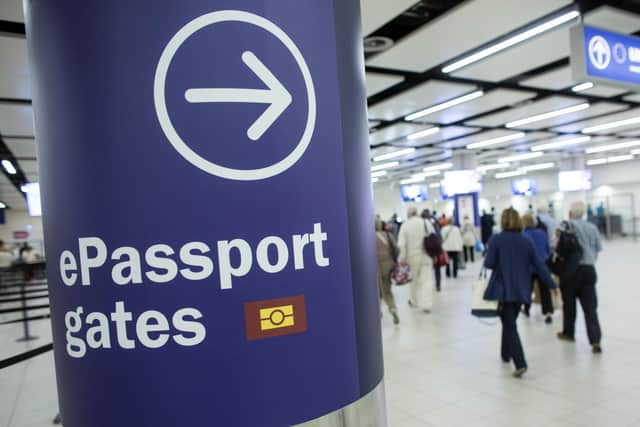 The new laws came into force on Monday and will see Scots fined £480 if they are found to have breached the restrictions, which affect people arriving at all international ports, including ferry terminals. In England, the fine is £1,000.
The measures were introduced by the UK government and apply in Scotland because border control is a "reserved" issue under the devolution settlement.
But Mr Scott, who heads up an independent advisory group on Scotland's emergency lockdown laws, condemned the policy as he appeared before Holyrood's justice sub-committee on policing yesterday. He said: "The quarantine regulations, and speaking personally here, I think are a mess. I do not understand them.
"They appear to be unenforceable. It looks as though the UK government is trying to find a way within the next few weeks to get rid of them or to forget they are there or to pretend that they were never there."
He also raised concerns that the Scottish Government regulations for the new laws were only published last Sunday as they were about to come into force.
Mr Scott added: "You can't introduce new powers without giving the agency who is supposed to be enforcing them, even as a back stop, enough time to work out what they're meant to be doing and disseminating as much training as they can in a short period of time."
At Holyrood committee hearing yesterday, Mr Livinstone said: "I have reservations about the demands they potentially put on policing.
"I also have reservations about that relationship or trust I was addressing both today and over the last couple of months about, if you like, the police knocking on people's door who were in essence not committing any level of offence or committing any level of harm.
"But it's a balance that needs to be struck because of the public health benefit."
Police Scotland staff are still drawing up guidance for officers.
Mr Livingstone added: "It's been difficult for the legislation to be implemented, the speed of it has been a challenge and the awareness and understanding of it.
"We're still working today, this very morning I was speaking to some of my senior colleagues who were in the process of providing guidance for officers and staff with regards to the regulations, albeit they came into force yesterday."
First Minister Nicola Sturgeon said "complex issues" on the regulation had to be worked out before they were published, including compliance with human rights legislation.
Speaking at the daily coronavirus briefing in Edinburgh, Ms Sturgeon said: "There are, in substantive terms, not that many differences between the approach we've taken in Scotland and in other parts of the UK.
"There are some differences but we will work through those and make sure there's as much guidance and understanding as possible."
She added: "We have very deliberately tried to make sure that, in how we looked at enforcement here, we are not overburdening the police.
"That's partly for a resource reason but also because we don't want what is a public health measure to be too driven by criminal enforcement.
"We want it to be much more led from the health imperative.
"So these are all complex and difficult issues that we have to work through as carefully as possible and that is what we have and will continue to do."
The Quash Quarantine coalition, a group of more than 500 travel and hospitality firms, urged ministers to confirm the "air bridge" measure, which would enable travellers arriving from countries where the risk of being infected by coronavirus is deemed to be low to avoid having to self-isolate for 14 days.
The group includes travel firms Inghams and Travel Republic, and London hotels the Ritz and the Dorchester.
Paul Charles, spokesman for the coalition, said it has "received private assurances from senior government sources that travel corridors will be in place from 29 June".
He said: "We urge the government to signal to the travel industry publicly and urgently that this is the case, as well as amend FCO [Foreign and Commonwealth Office] advice on non-essential travel."
The group is considering whether to take its own legal action against the measures or join proceedings launched by British Airways, but would prefer that air bridges are "confirmed as soon as possible", Mr Charles added.
"The industry needs urgent visibility on a timetable for travel to begin again."
The regulations must be reviewed every three weeks, with the first taking place by 29 June.
The laws mean that all arrivals to the UK will be required to self-isolate at a private residence for 14 days.
Border Force officers are carrying out checks on arrivals and may refuse entry to a non-resident foreign national who refuses to comply with the regulations.
In Scotland, public health officials will stop those arriving in the country and acquire details of where they will be staying.
However, Mr Livingstone told MSPs yesterday that the police would play a "backstop" role, with Public Health Scotland taking the leads in "tracking and monitoring" those who have arrived.
The Chief Constable suggested that a "light touch approach" will be adopted by Public Health Scotland in getting people to comply.
He added: "Where Police Scotland will come into play is where we are contacted by a member of the public or some other third party that says an individual has just arrived back."
But he insisited officers will seek to explain and encourage compliance and may not take "enforcement action".
Comments
 0 comments
Want to join the conversation? Please or to comment on this article.