The Scotsman urges readers to Rediscover Scotland with new campaign
The Scotsman is today launching a summer campaign called Rediscover Scotland with the aim of reconnecting readers with all that is good about our country as we slowly start to plan for an end to the nightmare of Covid.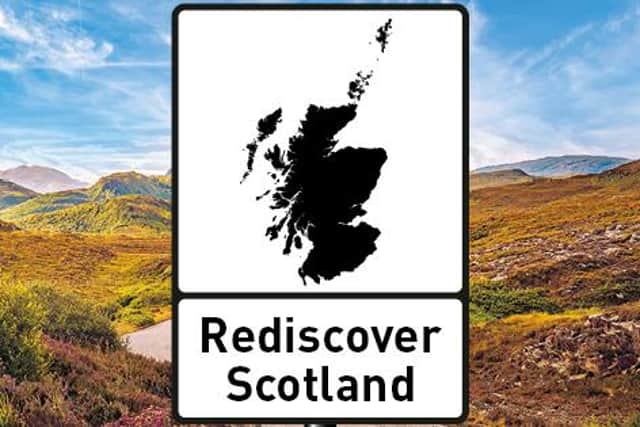 From now and throughout the Summer we will be using these pages to showcase all that is best on offer – from events and gigs, beer gardens to walking boots, midge cream to hilltop views.
Today is, of course, Good Friday, for many a special day which talks of rebirth and resurrection. What better occasion then than to launch a campaign championing all the things we have spent the last year pining for.
With Scotland expected to host its busiest ever domestic tourism boom, the very real prospect of restaurants and bars reopening, events and gigs soon re-established and fans allowed back into sports grounds, Rediscover Scotland will bring to The Scotsman's online and print audience a prime selection of great ideas, encouraging responsible enjoyment always.
Scotsman Head of Content, Alan Young, said: "On every step of the journey through the crisis of Covid we have been side-by-side with our audience, telling the stories as they emerged, both of heartache and hope.
"Now, as the Scottish Government has set out its path to recovery for Scotland and we can finally look forward to taking the dust covers off our society, it is only right that we plan for the next stage in this unfolding story with optimism.
"If things go as we hope we can expect Scotland to be busier than ever this year, with millions of people from across the UK electing to staycation, hopefully enjoying the sun here rather than abroad.
"The idea behind Rediscover Scotland is very straightforward; when the time is right and when safety allows them to enjoy freedom, we will help readers negotiate what is on offer, highlighting and celebrating the very best, whether that be places to eat or drink, a route map for a day out, or simply a place to pitch your tent."
Jim Killough, JPIMedia's Commercial Director for Scotland, said: "Businesses right across Scotland are emerging from what has been the most challenging year in recent memory. Many have adapted and adjusted to new ways of working, new ways of engaging with their customers and are facing a new future so very different from the one they faced at the beginning of 2019.
"Commercially, the Rediscover Scotland campaign aims to provide support, guidance and a platform to businesses of all shapes and sizes right across the country. We will use our insight and expertise, harnessing an industry-leading range of marketing products and techniques to connect our audience with the businesses of Scotland.
"From the uncertainty and turmoil thrown up by the pandemic, Scottish businesses have a real opportunity to come out fighting. Through this campaign, and beyond, The Scotsman hopes to be front and centre of this resurgence, supporting Scottish businesses all the way."
Rediscover Scotland will run throughout Summer 2021 with a campaign co-ordinated round key events, collated round the hashtag #RediscoverScotland supported by The Scotsman's print, online and engagement teams.
Rediscover Scotland is a new campaign run by The Scotsman and Edinburgh Evening supporting and celebrating Scottish hospitality, tourism, events and business. As Scotland slowly emerges from the nightmare of Covid we will be highlighting the very best our country has to offer. If you have a story for us let us know by emailling [email protected] or calling 0131 311 7541
If you are a business owner and would like to know more about Rediscover Scotland advertising opportunities contact our Commercial Director Jim Killough to find out more [email protected] or contact us on 0131 311 7311