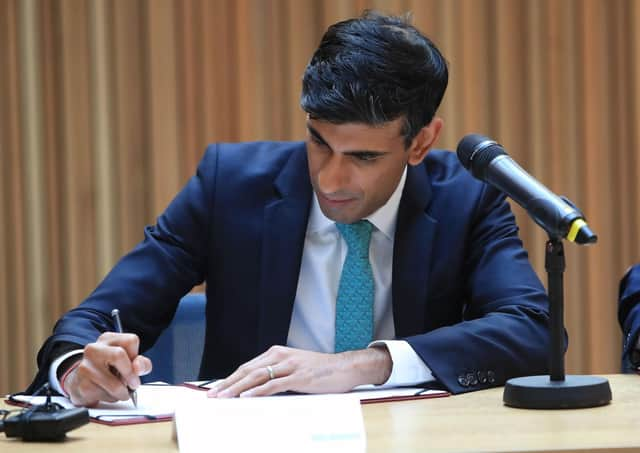 The Institute for Fiscal studies said the plans unveiled by Chancellor Rishi Sunak were not as generous as they appeared, because they rely on already-announced spending.
Overall spending is set to rise by £76 billion, or 9 per cent in real terms, between 2019-20 and 2023-24, largely paid for by extra borrowing.
The IFS said the size of the state, measured by looking at public spending as a fraction of national income, will reachnearly 41 per cent of national income – above pre-crisis level and bigger than at any point between the mid-1980s and the start of the financial crisis.
But IFS director Paul Johnson said: "The current spending plans are nothing like as generous as they appear.
"Average annual increases of 2.8 per cent sound substantial; take account of the need to replace EU funding and factor in planned increases for health, schools, defence and overseas aid and there is relatively little here for other departments.
"If this spending envelope is stuck to, there are plenty of public services which will not be enjoying spending increases over the next few years."
Mr Johnson said the spending plans look "suspiciously front loaded" and could lead to increased taxes in future.
The IFS director also said the impact of coronavirus could hit the Budget plans hard.
On the economic forecasts, he said: "Projected growth rates averaging barely over 1.5 per cent a year for the next five years are feeble, frankly.
"And they are indicative of an economy that is not in a robust position to deal with shocks like the coronavirus."
However, measures in the Budget to help tackle the virus are "substantial" and well-designed, the IFS said.
The Chancellor unveiled a £12bn package specifically targeted at the impact of the virus as he outlined the Government's economic response to the Covid-19 outbreak on Wednesday.
He said the NHS will receive "any extra resources it needs", whether that is "millions or billions of pounds" to deal with Covid-19 on top of £6bn of new funding to support the NHS over this Parliament.
And Mr Sunak said statutory sick pay will be extended to all of those eligible and asked to self-isolate, even if they are not showing symptoms, while the government will meet the cost for businesses with fewer than 250 employees of providing SSP for 14 days.
Mr Johnson said the package "looks fairly well designed," but added: "It remains to be seen whether it will be enough to support public services, support the vulnerable and insulate the economy from long-term effects."
In the Commons debate on the Budget, shadow Chancellor John McDonnell said it was "overwhelmingly clear now that no government can inflict a decade of cuts and austerity on our public services, like the NHS and care services, without impacting upon their resilience in a time of crisis".
He called for statutory sick pay to be made available to all workers, including those in the gig economy and on zero-hours contracts, at a cost of billions more than the package announced in Mr Sunak's budget.
"Ten years of cuts and failure to invest in services have meant we are extremely ill-prepared for dealing with this type of large-scale health risk to our community," Mr McDonnell said.
"We know the NHS is already under pressure, intense pressure, as a result of under-funding and under-staffing. 17,000 beds have been cut, bed occupancy levels last week were at 94 per cent and critical care bed occupancy was at 80 per cent.
"These are the beds we rely upon in episodes like coronavirus and the NHS is short of a hundred thousand staff, including over 40,000 nurses and literally thousands of doctors.
"But we also have to recognise that the NHS needs putting on a longer-term stable footing with secure financial backing for the long-term now. Just as we have over the coronavirus outbreak, we must listen to the clinicians and the experts when it comes to what is needed and I have to say this, it shouldn't take a crisis to secure the NHS the resources it needs."
The SNP's Treasury spokesperson Alison Thewliss said the Budget "doesn't do nearly enough to resolve the many concerns we have with the UK economy".
"This Chancellor has kicked a range of significant policies and changes out to the long grass of the comprehensive spending review to give Dominic Cummings more time to come up with some ideas," Ms Thewliss said.
"The Chancellor has made clear his intention to spend his way out of this crisis... on these benches we're not going to argue that the UK government needs to loosen their purse strings.
"I am concerned that in practice it is simply not enough and not focused enough to counteract the last ten years of austerity which has ravaged our communities."