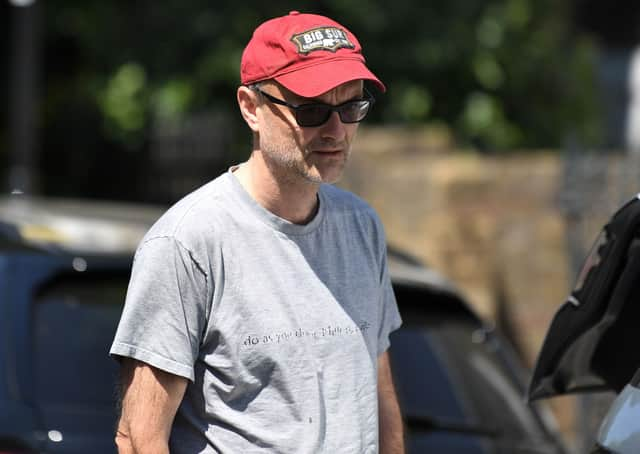 In a letter to the Cabinet Secretary ahead of the Parliament returning tomorrow, SNP Westminster leader Ian Blackford has said the confirmation by Durham Police that there was a breach of the regulations – added to Mr Cummings' admitted wider breaches of the UK government guidance – meant there was a clear need for an inquiry.
The letter comes as deputy chief medical officer Jenny Harries was asked at yesterday's UK Government briefing whether she agreed with comments made by another deputy CMO, Professor Jonathan Van Tam, who had said the rules "should apply to all".
Ms Harries said: "Absolutely. As a matter of personal and professional integrity, I will always try to follow the rules... they are all rules for all of us."
Mr Cummings has been engulfed in controversy since it was revealed he travelled 260 miles from London to his parents' farm in Durham because he suspected he and his wife may have had coronavirus.
The couple and their four- year-old son also took a 50 mile round trip to Barnard Castle after the Downing Street aide had recovered from his illness, with Mr Cummings claiming the trip was to check his eyesight before the return trip to London. He has insisted that the trip was a "safeguarding" issue relating to his young son, amid fears that the couple may have felt too ill to look after him and revealed that his young nieces, who also live on the farm, had agreed to step in, although that had not been necessary.
Durham Police said last week "there might have been a minor breach of the regulations that would have warranted police intervention".
They added: "Durham Constabulary view this as minor because there was no apparent breach of social distancing."
However, the police said that they do not pursue retrospective action against any individual found to have breached lockdown regulations but that if Mr Cummings had been stopped by an officer while travelling to Barnard Castle he would have been advised to return home.
Prime Minister Boris Johnston has insisted that Mr Cummings behaved "responsibly and legally and with integrity" and has called for the matter to be brought to a close. But Mr Blackford said: "Dominic Cummings must not be left completely unaccountable for his actions. No matter how exceptional he thinks he is, there cannot be one rule for Tory advisers and another for everyone else.
"There is a real sense of indignation that Boris Johnson has refused to take his responsibilities as Prime Minister seriously and failed to remove Mr Cummings from post, severely undermining trust in the UK government and its public health guidance."
He said the SNP was still being "flooded with messages" from constituents about the issue.
He said: "The Prime Minister has a duty to maintain public confidence in the rules, not undermine them in the middle of a global pandemic. The success of test, trace and isolate, and wider efforts to keep the infection rate down and save lives, depends on public compliance.
"Leading public health experts and the police have warned that this scandal has undermined public trust.
Polling shows two-thirds think people will be less likely to obey the rules and there is evidence that they are already being broken as a result."
He added: "No one should be above the rules. If the Prime Minister won't act, then there must be a Cabinet Office inquiry into the rule-breaking and the cover-up, and Parliament must find ways to hold Mr Cummings to account. Otherwise people will think this is the establishment protecting itself.
"SNP MPs will continue to voice the concerns of our constituents on this scandal and press Boris Johnson to repair the damage he has done to public health."
Mr Cummings held a press conference last week, where he answered accusations about his breach of the rules.
He is not the first high profile government figure to be found in breach of lockdown rules.
Last month, Professor Neil Ferguson resigned as an adviser after he broke lockdown rules to meet his lover.
And Catherine Calderwood, Scotland's Chief Medical Officer, quit after being photographed by the Scottish Sun newspaper ignoring her own advice by making two trips from Edinburgh to her second home in Fife.