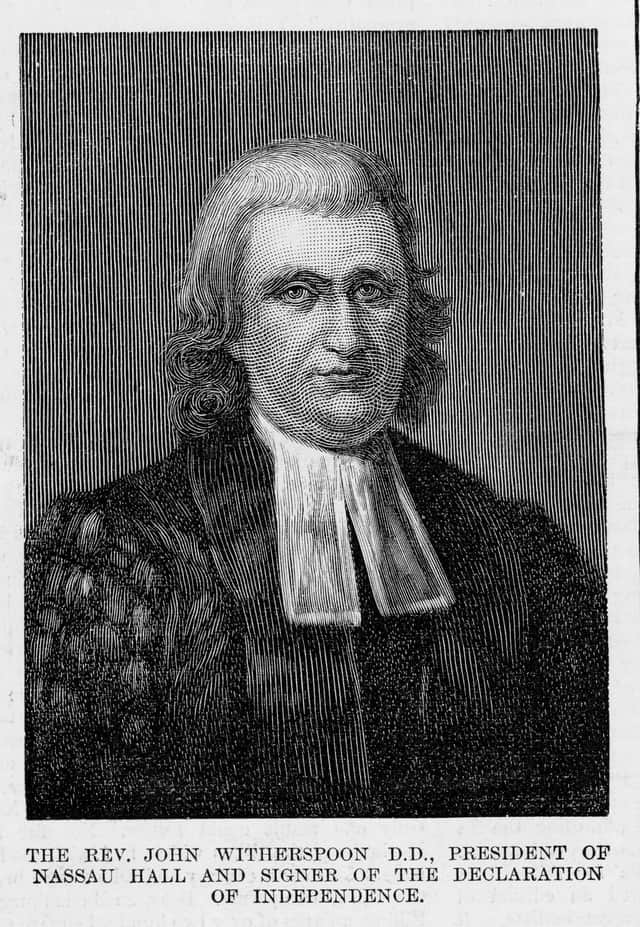 John Witherspoon was a signatory to the US declaration of independence. Picture: Interim Archives/Getty
But the centuries old legacy of the Rev Dr John Witherspoon, the Presbyterian who set out the US ideal of "life, liberty and the pursuit of happiness" and was one of the signatories to the American Declaration of Independence, is being reevaluated in his adopted homeland.
The Scot's name has been excised from a prestigious school on account of his vexed history with slavery, following a campaign inspired by the Black Lives Matter movement.
For decades, Witherspoon's name adorned the public school in the town of Princeton, New Jersey, the state where he became president of a college that is now known throughout the world as Princeton University.
It was one of a host of memorials to the Scot in the US and the country of his birth, where statues and plaques have been erected in tribute to his achievements.
However, following a petition signed by more than 1,500 people, objecting to how the John Witherspoon Middle School honoured the "slave-owning and anti-abolitionist" Scot, authorities in New Jersey have taken action.
The school is now known by the temporary name of the Princeton Unified Middle School until a new, permanent title is chosen in summer 2021.
Geoffrey Allen, a former pupil of the school, and the creator of the petition, reasoned that the Black Lives Matter movement made it an opportune time for the school to "rid itself of its slave owning and anti-abolitionist namesake," and said Princeton officials could not support anti-racism initiatives while allowing a place of education to be named after Witherspoon.
"The school's name and Witherspoon's legacy creates a hostile environment for both the middle school and the district's racially diverse student body," he explained.Now, Jason Burr, the school's principal, has said that students and the wider community will help decide on a new name, with a vote expected in June.
The controversy centres around Witherspoon's often contradictory remarks and actions around slavery and enslaved people.
During his time in Scotland, where he served as a minister in the North Ayrshire town of Beith and Paisley's Laigh Kirk, the theologian appeared to signal a natural opposition to slavery by breaking with tradition to baptise a man called Jamie Montgomery.
Born a slave in Virginia, Montgomery was sent by his master, Robert Sheddan, to Ayrshire as a carpenter's apprentice. Soon after his baptism in 1756, he fled to Edinburgh, where he pursued his claim for freedom as a fugitive from slavery at the Court of Session. He died before his case was heard.
After emigrating to the US, Witherspoon tutored two free African men, Bristol Yamma and John Quamine. However, he also purchased slaves to help farm his 500 acre country estate, and helped codify slavery as an institution by opposing the taxation of enslaved people, comparing them to horses.
Lesa Richmond, who has researched Princeton University's history, pointed out that Witherspoon voiced his disapproval of the slave trade while owning slaves, noting that "he appeared to make a distinction between the act of enslaving people and holding them as property after they had already been enslaved."
A message from the editor:Thank you for reading this article. We're more reliant on your support than ever as the shift in consumer habits brought about by coronavirus impacts our advertisers. If you haven't already, please consider supporting our trusted, fact-checked journalism by taking out a digital subscription.