Sir Sean Connery: An imperfect man, but the perfect star
He was the milkman's boy raised in the fumes of McEwan's brewery and the North British Rubberworks, who ascended the heights of Hollywood to become the most famous living Scot.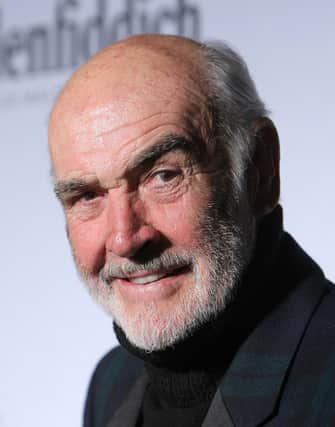 The life of Sir Sean Connery, who has died at the age of 90, was a remarkable and improbable ride. He will be immortalised as the actor who defined the character of James Bond, and carved out a status as Scotland's greatest bona fide film star. He will also be remembered as the man who was, and steadfastly remained, Big Tam.
Nearly twenty years have passed since Connery's final on-screen performance, and yet he left behind a filmography to rival any leading man in the 20th century. It spanned 58 years and roles as diverse as a Spanish hidalgo, one of England's most famous kings, a Russian submarine captain, and a legendary Greek ruler. The accent never deviated. The script seldom mattered. People paid to see Connery.
No Scot achieved the level of his fame, and perhaps no one will. What made Connery's all the more remarkable is that he refused to court it. He let his aura do the talking.
The nature and allure of that elusive quality is difficult to define, as evidenced in the flurry of fulsome tributes paid to Connery in the past few hours. First Minister Nicola Sturgeon described it as a "towering presence," while Daniel Craig, the current Bond, said Connery's radiance could be measured only in "megawatts."
Both assessments are true, and yet incomplete. Whatever Connery had, it was fully formed long before he set foot in an Aston Martin DB5. A few years back, I spoke to the artist, Richard Demarco, one of Connery's childhood friends. The young actor had posed for him as a life model, and Demarco recalled a natural dignity to the way he held himself.
"It was obvious Tommy was not going to be a French polisher," Demarco told me. "But then, all he had to do was stand still and look beautiful."
On screen, Connery fused a combustible blend of elegance and menace, and moved like a panther. The grit and danger were ever present in his Bond, and the supporting Oscar he won for his turn in The Untouchables proved deserved recognition of an understated and often underappreciated acting style. But it was arguably his films with Sidney Lumet which best exploited Connery's innate physical authority - the bedrock of his success.
This quality granted him a leading man presence comparable to Cary Grant, James Cagney, and Gary Cooper. Connery's greatest achievement, perhaps, was to prove so effortlessly that a working class Scot, the son of a cleaner and a factory worker, belonged in their company
Off screen, the same balance was not always so easy to strike. He was difficult company at times, both among strangers as well as those who classed themselves as his friends. Despite publishing his autobiography Connery was not a man given to self-revelation.
As the late William McIlvanney once observed, Connery never mistook himself for any image he was supposed to have at any given time. Any image he acquired was just part of him, not the other way round.
Indeed, Connery had greater influence over Bond's Scots heritage than has been acknowledged. It was only after seeing him in the film adaptation of Dr No that Ian Fleming fleshed out his protagonist's backstory in You Only Live Twice.
And from a man descended from Irish travelling stock, whose great grandfather eked out a miserable living as a bare knuckle fighter, there were darker legacies. Fits of jealousy, bitterness, and violence; forces he sometimes trained against those closest to him.
One of the ironies of Connery's life was his vexed relationship with the very things that defined him - Bond, Scotland and women.
He resented the Broccoli family for the money he had received for turning Bond into one of the world's most successful - and profitable - film franchises.
In the early 1980s, Harry Saltzman, a co-producer of the films, took seriously ill. According to Joe McGrath, the Scottish film director, Connery received the news at a card table in a casino.
"Sean, Harry's had a stroke," he was told. "He's paralysed down one side." Connery, still looking at his cards, replied: "Good. I hope he's paralysed down the other side tomorrow." Asked later if the story was true, he said simply, 'Yes."
Connery was subject to accusations of misogyny over the years, including by his ex-wife, Diane Cilento, who said he subjected her to physical and mental abuse. He once advocated hitting women with an "open handed slap" in a 1975 interview with Playboy, and spent much of the next 45 years expressing regret.
As Connery became increasingly politically active, he was also charged with claims of hypocrisy for advocating the cause of Scottish independence from far-flung climes. His interjections in the debate over his homeland's future were once dismissed by Brian Wilson, the former Labour MP, as "the view from a Marbella saloon bar."
But Connery's love for his country, and his desire for constitutional change, never dimmed. Even in the twilight of his life, spent in sun-dappled Lyford Cay, a private gated community in the Bahamas, he yearned for both.
None of this contradiction and darkness inherent in Connery's character dulled the brightness of his star. Maybe because they helped create it. He was, after all, the emblem of a particular strain of masculinity that was once revered. Nowadays, it is openly questioned, and fading fast from view.
In the age of #MeToo, it seems inconceivable that his star would ascend under the same circumstances. But then, no young actor nowadays would begin their working life at the age of nine, rising at 5am from the squalor of a cramped tenement to deliver milk in a handcart.
Connery was, in many ways, an Imperfect man. But he was, and will remain, the perfect star.
A message from the Editor:Thank you for reading this article. We're more reliant on your support than ever as the shift in consumer habits brought about by Coronavirus impacts our advertisers.
If you haven't already, please consider supporting our trusted, fact-checked journalism by taking out a digital subscription.
Comments
 0 comments
Want to join the conversation? Please or to comment on this article.