A French schoolgirl made false claims about a teacher before he was killed, it has emerged.
The 13-year-old girl, who has not been officially named, has admitted to lying about being in class at the time of the accusation which sparked an online campaign against the teacher.
She claimed the teacher, Samuel Paty, had told Muslim students to leave the classroom so he could show pupils "a photograph of the Prophet naked", to cover for her absence from school.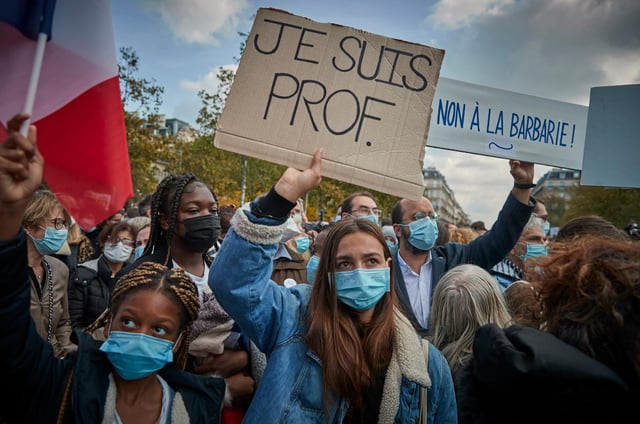 An anti-terrorism vigil was held in France for the beheaded teacher Samuel Paty. (Pic: Getty)
Mr Paty was killed by an Islamist terrorist, Abdullakh Anzorov, outside of his French school.
Mr Paty was a history and geography teacher at a school in Conflans-Sainte-Honorine, west of Paris, who was beheaded for showing students cartoons of the Prophet Muhammad.
He had been at the school, roughly 20 miles north-west of France's capital Paris for five years, living closeby with his wife and five-year-old son.
Born in Moulins, Allier, on 18 September 1973, Mr Paty attended the University of Lyon before specialising in teaching and taking up a middle school post.
It is thought that Mr Paty had given a class on the freedom of speech in which he had shown cartoons from Charlie Hebdo's depiction of the Prophet.
Why did the schoolgirl lie about Samuel Paty?
Mr Paty's class on freedom of speech was on 6 October 2020. He was killed 10 days later.
It is said that Mr Paty invited Muslim pupils to close their eyes or briefly stand in the corridor while he showed pupils the caricature of the Prophet.
The schoolgirl told her father that Mr Paty has asked Muslim pupils to leave the class before showing the caricature and that she disagreed with the teacher, who then suspended her.
The schoolgirl's father, Brahim Chnina, 48, took to Facebook to express his outrage in a video in which he called for Mr Paty to be sacked. A second video accused Mr Paty of "discrimination".
An outraged Mr Chnina, who was born in Morocco, complained to the school and the police.
Why was Samuel Paty targeted?
Mr Paty was targeted by Abdullakh Anzorov, an 18-year-old radicalised migrant living in Normandy, who is reported to have been scouring the internet for a cause.
He travelled to Conflans-Sainte-Honorine and paid two teenagers around the equivalent of £270 to identify Mr Paty as he was leaving school for home at the end of a working week.
Shortly after the killing, prosecutors said there was a "direct causal link" between the online incitement against Mr Paty and his murder.
The girl's lawyer, Mbeko Tabula, told Le Parisien: "It was the father's excessive behaviour, making and posting a video incriminating the professor that led to this spiral.
"My client lied, but even if it had been true, the reaction of her father was still disproportionate."
Mr Chnina is under investigation for "complicity in a terrorist killing" said: "I never thought my messages would be seen by terrorists. I didn't want to harm anyone with that message. It's hard to imagine how we got here, that we've lost a history professor and everyone blames me."