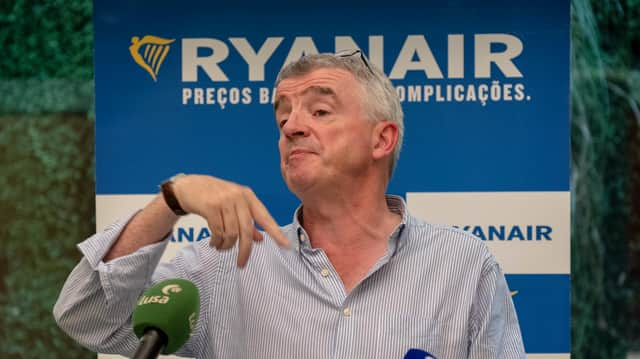 Michael O'Leary said Ryanair is in talks with airports to boost capacity. Picture: Horacio Villalobos/Corbis/Getty
Michael O'Leary, the controversial boss of the low-cost airline, said the pandemic had brought about the biggest "clean out" of the industry for a generation, and revealed that his firm was in discussions with airports across Europe to bolster its capacity.
In an interview with the Financial Times, the 59-year-old predicted that that 100 million of his competitors' seats would be taken out over the next 18 months, which would result in reduction of around 15 per cent of normal passenger traffic.
Detailing Ryanair's talks with airports in Italy and Spain, Mr O'Leary said: "Somebody has to step up and take that capacity."
The impact of Covid-19 has hit the global aviation industry hard, with a slew of airlines folding, and others forced to shed jobs and embark on major cost-cutting drives.
Mr O'Leary reflected: "I have never in my 30 years in the industry seen such a clean-out. The real seismic change from Covid will be the growth opportunities across Europe. They are much greater than after the financial crisis or 9/11."
Low-cost carriers are expected to spearhead the recovery among airlines, given the short-haul travel market will rebound faster than intercontinental and business travel. Mr O'Leary said that Ryanair, already Europe's largest airline, was poised to exploit that trend.
The company expects to carry just 38 million passengers this year, a fifth of the 2019 total, but it has already signalled its ambition by securing a discounted order for Boeing's 737 Max aircraft.
Mr O'Leary said there had been a "noticeable but single digit" spike in bookings over the past month, albeit from a "very, very low base."
He added that there is a "working assumption" that it will fly between 90 million and 130 million passengers in the 12 months to March 2022, explaining: "We have consistently been planning for a reasonably quick recovery and constantly disappointed. What has changed is the vaccines are arriving.
"The issue for our industry is, is that recovery in May or August? We just don't know."