£800,000 bill for Donald Trump's trip to his Turnberry resort
Donald Trump's last visit to his flagship international resort at Turnberry in Scotland cost US taxpayers more than £800,000, with the Secret Service spending hundreds of thousands of pounds on hotel rooms and rental cars, according to newly disclosed documents.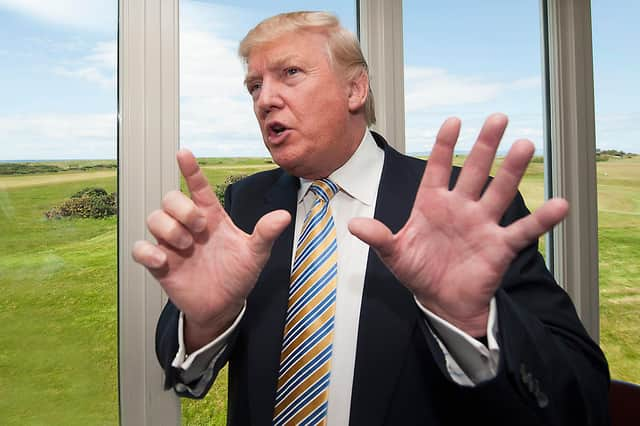 The US president visited his loss making property in July 2018 for a two night stay, during which time he played two rounds of golf.
Now, a breakdown of expenses incurred throughout the trip, published by the Office of Inspector General (OIG) for the US Department of Homeland Security, shows the total Secret Service expenses totalled at least $953,261 (£822,649).
The Secret Service spent $9,662 (£8,338) at Mr Trump's property, but the OIG said it "could not determine how much the resort gained in profits."
Three leading Democratic politicians have called on Mr Trump to reimburse the US public purse, describing the trip as "unnecessary and wasteful."
In its summary of the spending, the OIG stated that some $316,492 (£273,127) was spent on hotel rooms, $11,121 (£9,597) of which was for ab explosive ordnance disposal team from the US Defence Department.
A further $466,424 (£402,516) went on rental cars, with $63,744 (£55,010) spent on commercial airfares, although the OIG notes that "due to system limitations, the Secret Service could not provide complete cost data in certain areas for the Turnberry mission in Scotland."
The partly redacted 12 page-long report does not disclose the nightly hotel room rate the Secret Service paid at Mr Trump's hotel, which he took over in 2014. The OIG report states that the rates were less than the government's per diem lodging rate and the resort's seasonal rate for July 2018.
However, the breakdown of spending shows extensive spending elsewhere. It includes $4,048 (£3,493) to rent 19 golf cart at Turnberry, with Mr Trump's company receiving $923 (£796).
The amount spent on meals and incidental expenses is redacted.
In a statement, Carolyn Maloney, the chair of the House Committee on Oversight and Reform in the US House of Representatives, along with senators Tom Carper and Elizabeth Warren, said: "American taxpayers should not be on the hook for President Trump's golf weekend to a property he owns as a private businessman.
"The president has consistently abused the levers of government to promote his own personal enrichment, and we are calling on him today to reimburse the American people for the more than $1m price tag for this unnecessary and wasteful trip. This is their money – not his – and he should return it to them immediately."
Accounts published last year showed that Turnberry ran up losses of more than £10.7m in 2018, meaning that since Mr Trump took over the historic venue, it has lost nearly £43m.
The accounts also show that the resort remains more reliant than ever on Mr Trump for its finances. It owes the 73-year-old £115m, money that he provided in the form of interest free loans.
Last year, the US House Oversight and Reform Committee launched an investigation into US military spending at the Scottish Government-owned Glasgow Prestwick Airport, and its ties with Mr Trump's South Ayrshire hotel and golf course