Prince Harry and Meghan Markle left the UK for the US in January 2020, and stepped back from their roles as royals from March of the same year.
On 19 February 2021, Buckingham Palace confirmed they would not be returning to their royal duties in the future and added that the royal family were "saddened by their decision".
So, what does this mean for their titles as the Duke and Duchess of Sussex and will they continue to serve in their philanthropic roles? This is what we know so far.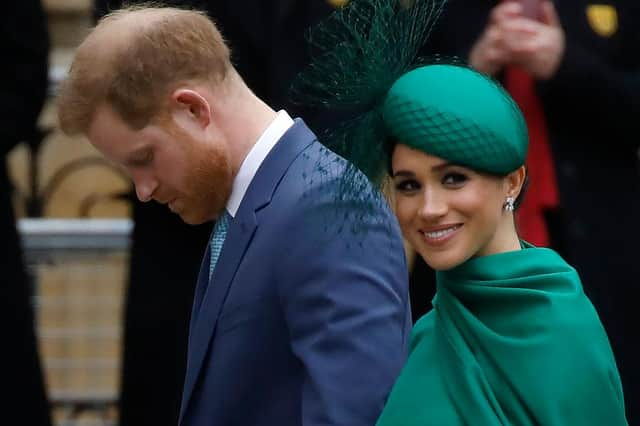 Why have Harry and Meghan resigned from their royal duties?
The couple have engaged with the rest of the royal family in reviewing their roles, following their decision to step back from life in the public eye last year.
Earlier this week, on 16 February, it emerged that the couple would be interviewed by Oprah Winfrey, in a CBS "intimate conversation".
Royal commentators have speculated that discussions between the other royals and Harry will have been intense this week, after Harry and Meghan's failed to ask for the Queen's approval before being interviewed by Oprah.
A statement from Harry and Meghan's representatives read: "As evidenced by their work over the past year, The Duke and Duchess of Sussex remain committed to their duty and service to the UK and around the world, and have offered their continued support to the organisations they have represented regardless of official role.
"We can all live a life of service. Service is universal."
The Queen has now confirmed in writing that, in resigning from their duties, it was "not possible to continue with the responsibilities and duties that come with a life of public service."
What does their resignation mean for their affiliations and patronages?
Harry and Meghan have now been cut from their official duties with military, Commonwealth and charitable associations.
The prince has also been stripped of his official title as captain general of the Royal Marines and has lost his roles with RAF Honington and the Rugby Football Union (RFU).
Meghan will no longer be a royal patron of the National Theatre, and the couple are no longer president and vice-president of the Queen's Commonwealth Trust.
The news came after discussions between the prince and his family, the Palace said in its statement, adding "Harry and Meghan "remain much loved members of the family".
How have their affiliated charities responded?
Since the news emerged, some charities who were linked to the Duke and Duchess have responded - it is not known when they were informed of the news that the couple would be forced to cut ties.
The National Theatre said it was "very grateful" for everything Meghan had done, adding she had "championed our work with communities and young people across the UK, and our mission to make theatre accessible to all".
England Rugby tweeted that the RFU "greatly valued" Harry and his support.
The Queen's Commonwealth Trust said the couple would "remain in our circle of supporters" having provided "keen support and encouragement" for the trust and those they support.
Harry is likely to remain an ambassador for the Invictus Games and engage in philanthropic roles not related to his official royal titles.
The couple have already signed deals with Spotify and Netflix estimated to be worth more than £100m and did not inform the royal family before agreeing to be interviewed by US media mogul and close friend, Oprah.