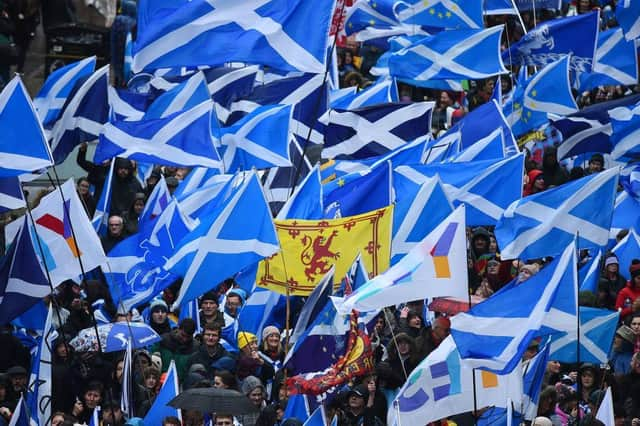 Mr Price said support for an independent Wales was now at its "highest" in history while devolution was under attack from Boris Johnson's Westminster Government.
The party leader also said the need to hold a referendum had been "accelerated" due to his belief that Scotland will become an independent nation by 2025 and that Brexit had made a united Ireland possible.
He will formally announce his proposal during a speech in Cardiff on Friday morning.
Mr Price will say that if he is able to command a majority of MSs in the Senedd after next May, the country will be offered one binary choice referendum on Welsh independence by 2026, within the first term of a Plaid government.
Ahead of the speech, Mr Price said: "Devolution itself - that most basic democratic principle that decisions affecting Wales should be made in Wales - is under attack from Boris Johnson's Conservatives.
"Meanwhile, the demand for another independence referendum in Scotland is becoming unstoppable and by 2025 Scotland could well be an independent country. And Brexit has also given further impetus to the calls for a united Ireland.
"Wales is in real danger of being left behind as part of a rump United Kingdom, in a new England-and-Wales formation - which would be the ultimate worst of all worlds.
"It is for these reasons that I therefore pledge today that subject to party approval, a Plaid Cymru government, able to command a majority in the Senedd, will offer a referendum on independence for Wales in its first term."
In June, a poll revealed 25 per cent of voters in Wales supported independence if there was a referendum the next day, the highest ever level of support recorded.
But the same poll also found 25 per cent of people asked would choose to abolish the Welsh Parliament if they were given a referendum on doing so.
The views of a sample of voters on Friday - suggest Mr Price still has a long way to go to persuade a majority of the benefits of going it alone.
Michael Trott, a 20-year-old waiter from Barry, said: "I don't really see the point of Wales becoming independent because I don't think Boris Johnson is doing a bad job,"People overcriticize him, like they do with every politician in power."Why should we cause headache and waste time and money trying to change things, when they are fine as they are?""Freddie White, 17, a sixth-form student who actively campaigns for independence, said: "Wales should be independent for a number of reasons."Firstly, we have our own language and culture which is different from the rest of the UK. So, we have a cultural difference, as well as a political difference - Wales has consistently voted for Labour in every election since the end of World War II."By becoming independent, we can re-join the EU if we wanted to, regulate the sale of Welsh water, revive the language and form better relationships with other countries."
A message from the Editor:Thank you for reading this article. We're more reliant on your support than ever as the shift in consumer habits brought about by Coronavirus impacts our advertisers.
If you haven't already, please consider supporting our trusted, fact-checked journalism by taking out a digital subscription.