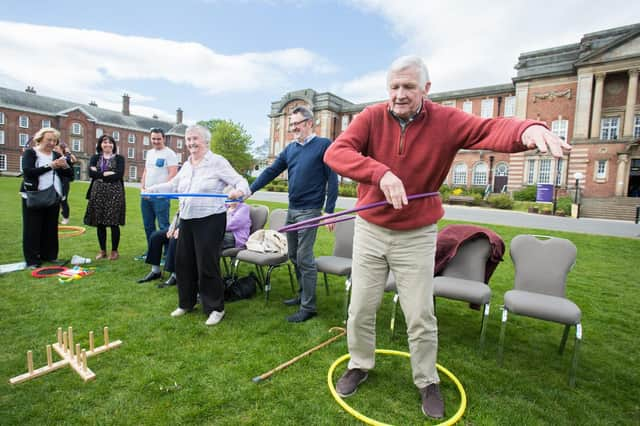 It creates powerful memories - and in recent years work has been done to show how this connection can help to engage isolated older people living with long-term conditions like dementia, Parkinson's disease, depression or loneliness.
Sporting Memories Foundation Scotland is the first charity of its kind to be dedicated to the development and use of sports reminiscence, inclusive physical activities and intergenerational activities to support isolated older people across the country.
Founded in 2017, The Sporting Memories Foundation Scotland is the charitable arm of award winning Sporting Memories Network Scotland, a social enterprise that runs weekly sporting memories groups, that brings together older people living with long term conditions such as dementia through sporting reminiscence and physical activities, with the aim of improving well-being and reducing loneliness and social isolation.
Using images of sport, articles and memorabilia, older people are assisted to stay connected to their friends and communities, cognitively stimulated and physically active.
There are currently around 40 clubs across Scotland - and all of them were affected by the pandemic.
"The biggest issues was helping older people to access digital platforms so we had to reinvent ourselves from the physical world," says Maurice Donohue, Chief Operating Officer of the Sporting Memories Foundation Scotland.
"We knew digital would be a challenge for some of our members but we've embraced it and we've had clubs across the country running those. We've also set up telephone circles. It's just something we want to try and get back to some sort of normality."
While the clubs were started with the aim of helping older people reconnect with their love of sport, they have gradually introduced physical activity into their clubs, whether it is something as simple as standing up or stretching to armchair sports.
A survey carried out across eight clubs with 120 participants found that 84 per cent of members surveyed had not taken part in regular physical activities prior to joining the weekly Clubs. Now they are getting weekly physical activity through a range of accessible activities such as boccia, chair based exercises, table tennis among many others.
Sporting Memories found that members have been less active during the pandemic and for some their physical health is getting worse.
To counter this they have developed KIT Bags, a new 'at home' package that contains physical activity equipment, reminiscence resources, instructional booklet and DVD, as well as a personalised member logbook.
The Kit Bag pilot saw these distributed to 100 members commencing December 2020 for an initial three months.
Brian Sloan, Chief Executive of Age Scotland, agrees that sporting reminiscences can play a huge part in helping engage people who might otherwise be left behind.
"For those who maybe aren't as able to take part in physical activity we have found the sporting reminiscences programme to be a huge help," he said.
"We had an older chap who had been a boxing champion in his younger days, and now he has advanced dementia - but he started recalling things from his boxing days, and then reeled off all the boxing weights. It was a great example of what it can do
"Chair-based sports such as bowls or curling can also help - we see advancement in people who might have started coming along with the aid of a zimmer or a walking frame, and over time the exercise helps their mobility increases to the point that some will move into the walking version of sport."