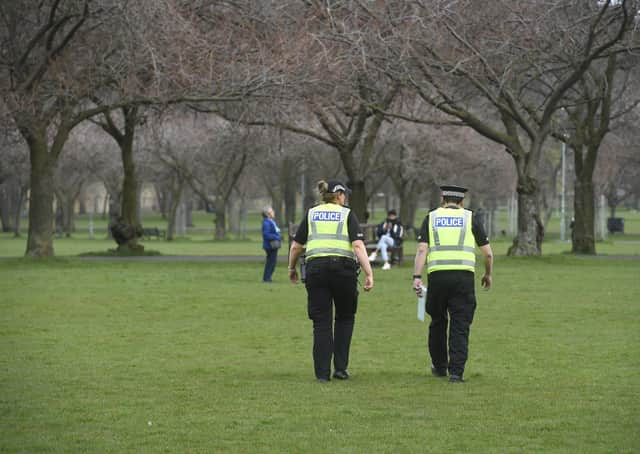 Police on patrol in Edinburgh's Meadows during the lockdown (Picture: Greg Macvean)
Sitting in an outdoor space is no less important or worthy than running. Resist demands for endless industry!
Under social distancing, some make the argument that being stationary might cause a blockade. But our dear green spaces, so important to the health of tenement and flat dwellers, are not like narrow supermarket aisles or winding streets which must be carefully navigated lest one collide with a pensioner. If anything, those sitting for a while on a patch of grass are much easier to avoid than joggers moving at speed, breathing heavily, shedding sweat and saliva as they rush past.
I can hear that faint cry of not all joggers. This is true. Some of my friends are joggers. I'm happy for them. We each have our perversions. But that's really the point I am making – that they're no more or less worthy in their choice of outdoor activity than anyone not prone to fits of running. We can only take responsibility for our own actions, hoping others nearby behave responsibly. But if we were to view people from above as though tracking ants, those sitting, provided at an appropriate distance from others, are generally easier, not more difficult, to avoid.
In interpretations of what appropriate exercise really means (note: nowhere is incessant movement specified) we can see a mindset which reveres overt functionality above all else. There is a belief that to interact properly with the outside world, one must be rushing through it, as though step counts were the only meaningful return. As though it were a moral good, even. But this is wrong.
Reports are beginning to emerge of police officers haranging anyone stationary. Under a photograph of a young couple, nobody near them but an approaching officer, South Leicester Police tweeted "Sitting and eating chips on the beach isn't exercise..." It's creepy enough normally when police social media accounts get too chummy, but nobody has bestowed upon them the powers of a sadomsochistic high school PE teacher, who upon getting a whiff of salt and vinegar on the sea breeze springs to action to activate the bleep test.
Societal reverence for speed and physical movement already penalises the disabled, alienates the elderly and the very young. Yes, these are times of life and death, but in such muddled execution there is clearly uncertainty as to what exactly is permitted – and the desire to shame individual citizens is deeply off.
The 'productivity is king' mindset lurks behind mental health treatment lagging behind the physical for centuries; not only because it is more difficult to see and therefore understand, but because of the toxic idea that effortful physicality matters above all else; that mental problems might just be brushed away, if one just tries hard enough. When Boris Johnson was in intensive care, Iain Duncan Smith snidely suggested that the Prime Minister hadn't fought hard enough, an insight into the punishing ideology underpinning the UK's grotesquely irrational welfare sanctions, which punish the individual for succumbing to events beyond their control. Many of our Conservative ruling class simply graduated from bullying private school prefect to barking army commander in the little part of their minds which perceives vulnerabilities in others.
Reverence for pure functionality is also behind disdain for the arts. Local authorities increasingly strike lines through music programmes, and children are ushered away from creative curriculums by those who believe the intangibility of immediate benefit is useless to their future. Creative writing is polluted by rigid requirements to use particular grammatical formats, shoving 'creative' out of the way in favour of rote learning. Professional writers do not write like this; they would be bamboozled by homework questions demanding a story shows its workings at all times.
Institutions of all kinds tick down the line of whatever we get up to and check for compliance to the cult of busy-ness, to the detriment of open-ended curiosity and creativity. It happens in the workplace, too. The '80 film Office Space satirises the middle manager busybody fussing over which form is used. During his frequent harranguing, no work is really being done. Companies are often bloated in this way, with overly rigid adherence to procedure obscuring the bigger picture; halting, rather than encouraging, commercial progress.
When taking our daily exercercise, the benefits of running or jogging or simply walking are obvious from a health perspective; they can be tracked and understood on graphs and axes, and traced in the shifting strength and shapes of our bodies. Muscles begin to bulge, sweat drips. Producing endorphins is great for the mind, too. But a simple change of scenery can be equally important. Personally, I depend upon going outside just to breathe fresh air in order not to fall into immobilising dejection, something I have come to realise more clearly in recent times.
Going into lockdown, and especially for the furloughed, many of us thought we would use the time productively. To work on a novel. To learn a language. A daily yoga practise. Crafting. But many have found it harder than they expected, distracted and made despondent by the bad news flowing each day. Are we putting pressure on ourselves to do these things because we want to, or because under a Capitalist society, endless productivity is demanded of us? In finishing that book with haste, are we responding to an artistic drive, or a marketing schedule? It is easy to internalise the pace of work, reenacting it even in downtime, particularly in those with insecure, freelance jobs, always hustling for the next gig. Unscrupulous start-ups encourage blurred boundaries between work and personal expression.
Not every feeling or action must be measurably productive to be of value. We do not have to turn our bodies into machines. Sometimes it is ok to just feel something for what it is: pleasure, respite, art, or sitting in fresh air. Sometimes it is ok to do nothing. Sometimes it's the best thing of all.