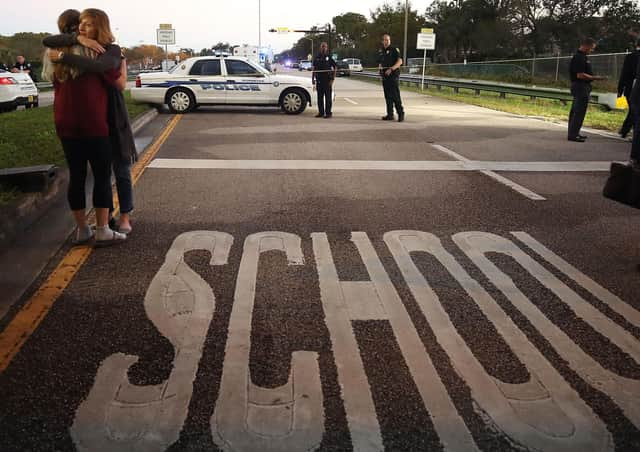 Two people embrace at a police check point near the Marjory Stoneman Douglas High School in Parkland, Florida, where 17 people were killed by a gunman in February 2018. The lockdown has resulted in a rare shootings-free month for schools in the US (Picture: Mark Wilson/Getty Images)
It shouldn't have taken this, was Hillary Clinton's response to the news that this had been a shootings-free month for schools in the USA.
She was right. But sadly it's a response that applies to so much that we are seeing in our society in this pandemic.
Not least the realisation that our society needs attention.
Keep Calm and Carry On once seemed like the perfect invocation for a crisis, but somehow in the reality of this one it falls short of what everyone seems driven to do.
Captain Tom Moore's multi-million-pound fundraising walk, the Thursday clap for the NHS and other frontline workers and TV's 'Big Night In' seem to epitomise that desire to bring us all together. Somehow.
And this past weekend, I have also been taking part in an event which, for me, comes from that same motivational root.
For the first time, a political party in this country has encouraged a joint fast by its members and elected representative to mark Ramadan.
It's an event launched by a Muslim Liberal Democrat councillor to recognise that while mosques remain closed communities will be unable to come together to celebrate this holy month.
For many of my own constituents that will make this Ramadan particularly difficult as I know it has also been for many Christians at Easter and the Jewish community at Passover. In taking part, albeit briefly, we would hope to recognise those things which our communities have in common rather than our differences.
Over the lockdown, the spotlight has often been focused on those parts of society which are not only coping, but in some inexplicable way, almost thriving on being able to play their part.
But, as parliament returns in its new virtual format, we have to recognise that for many it is not easy to come forward and the pressure to play your part can be damaging. That not all of our communities are impacted in the same way.
In this new term, it will not be enough for us simply to pass legislation and issue guidelines to keep people indoors and at a safe distance.
A uniform approach in a diverse society is not enough.
The LGBT Foundation has launched a survey which aims to identify how coronavirus is affecting the LGBT community in order to see what help is needed most.
Even in the best of times lesbian, gay, bisexual and trans people have more difficulty accessing the healthcare they need, increasing their health risks in comparison to the rest of the population.
We know the same is true of Black and Minority Ethnic communities too.
We are seeing the evidence of it in the disproportionately high numbers of the BAME communities who are losing their lives to Covid-19.
Those with conditions like Motor Neurone Disease are still not getting the support they need and deserve from the Government.
And what about people who have come here to start a new life, fled from tyranny, war, oppression that we can only imagine? How do they react in this?
In its initial response to this crisis, the Government has put forward a package of measures which, while it does not help everyone, is at least an attempt to offer an economic support mechanism.
But that is an economic approach and what we most need now is a societal and community approach.
This week the Domestic Abuse Bill, whose passage through parliament has been plagued by delay despite its cross-party support, will have its second reading.
Surely here is the perfect opportunity to address one of the major issues emerging through lockdown: the frightening increase in domestic violence.
We need more investment, more refuges, more empty hotels utilised to provide the safety that so many victims of abuse feel denied in this crisis.
And there is the Immigration Bill too, whose arbitrary financial qualifications do not value the very people who have been at the frontline in this, in our NHS, our care homes, our shops and so much more.
It has been withdrawn, temporarily, and I cannot help but hope that when it returns the Conservatives will acknowledge the shortcomings which the emergency has highlighted and amend it.
Make it possible for all those who have put their lives on the line for us on the frontline against coronavirus and whose visas will run out to be given the indefinite right to remain that the current proposals could deny them.
More than that, revisit how we fund our NHS and welfare state.
Examine whether we provide services that are accessible for all in our patchwork of communities. There's one bit in a recording which I did for the Lib Dem Iftar which seemed to express what many of us hope we might find when we emerge from this dark tunnel.
That this experience has focused our minds on what really matters. That we can learn so much from each other and that together we can do much more. But surely it shouldn't have taken this?
Christine Jardine is the Scottish ­Liberal Democrat MP for Edinburgh West