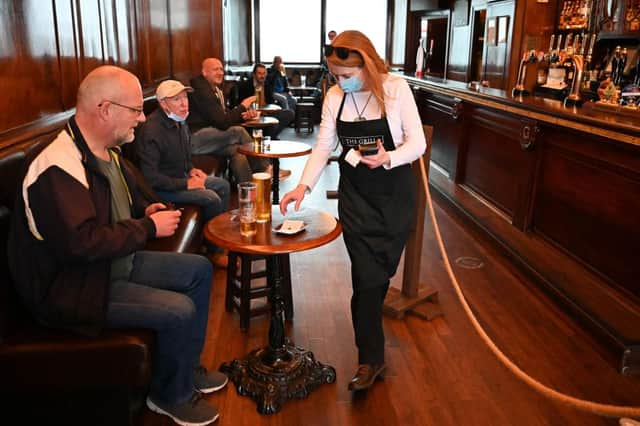 Can Scotland's traditional pubs survive coronavirus? Many pubs remain closed given they are unable to make money given the social distancing measures now required and the knock on effect on capacity. PIC: Jeff Mitchell/Getty.
High stools lined the wooden bar, practically doubling the capacity of the few tables crammed into the main room.
The Halfway House pub, which dates back centuries and is known as one of Scotland's tiniest bars, already struggled with a lack of space on busy nights but, until now, that had been one of its charms.
He had seen the writing on the wall, shutting his doors a week earlier than he had to in mid-March, as news of more cases of coronavirus hit the headlines in Scotland and people began to feel wary of sitting in packed rooms.
Sandy Bells in Edinburgh is one of many capital pubs that remains closed. It relies on the business of folk music fans to keep going with the owner saying he needs around 60 people in the pub every night to break even.
"Business was already right down anyway and the staff were getting edgy," he recalls of his decision to close up days before the hospitality sector was officially shut down. "When there was talk about the legislation changing [to introduce social distancing], I was not optimistic about us re-opening because of the size of the place – it being the smallest pub in Edinburgh."
Experts have warned that many small Scottish pubs – a lot of them historical venues based in compact premises which are hundreds of years old – could be forced to close for good as a result of the coronavirus crisis.
Once the Scottish Government announced a date for the hospitality industry to re-open in mid-July, Whiting turned to the local council for support, scheduling a meeting with a licensing officer. "We had a chat in the premises," he says. "It quickly became clear that we weren't going to be able to have anyone sitting at the bar, or standing up, which left me with four and a half tables. When you take into account that some of those tables might seat four, but could be taken up by two people coming in, I've hardly got seven or eight people in at any one time.
"A lot of the locals only come in to stand at the bar and chat to the staff or to each other. It's a cosy wee pub. We just couldn't re-open in the way we would have to."
The pub has now been locked for six months and three out of five of Whiting's staff have been made redundant. Whiting owns the building, which has given him some breathing room in terms of the high rents some of his peers have to pay, so he hopes he may not have to close for good.
"I can effectively mothball the premises in hope that something changes in a few months," he says. "I realise I am very lucky to be able to do that. But morally, it wouldn't be right to open in the current situation. We're a small place with not much ventilation – it's an old building."
Last week, during an interview as part of the Edinburgh International Book Festival, Edinburgh-based author Ian Rankin lamented the continued closure of small, traditional pubs and in particular, his favourite drinking establishment, the Oxford Bar on Edinburgh's Young Street, which features in a number of his novels.
He told the audience: "It still is sore, because the Oxford Bar is still closed. You can't socially distance there. It is tiny. I don't know how they'll get around it if they ever do.
"A lot of my favourite bars in Edinburgh are small, old-fashioned bars. The vast majority of them are still closed."
The Scottish Government issued guidance under the third phase of lockdown easing, which allowed the hospitality sector to open indoor venues from July 15.
While inside, tables must be set with a minimum of two metres social distancing space, which can be reduced to one metre if certain mitigation measures are put in place such as ensuring only table service to reduce the number of people walking around a bar.
Traditional pubs known for their friendly welcome when a customer pops in on a whim are now also encouraged to operate a bookings-only system to ensure no overcrowding and to stop queues forming outside, as well as making it easier to collect contact details as is now mandatory under the Test and Protect system.
Pub associations are currently carrying out assessments to ascertain how many hospitality venues have been able to open since the lockdown eased, although figures on this are not yet available.
Bar owners, like any business, could put staff on the UK government's furlough scheme after lockdown hit, where 80 per cent of their wages are paid by the state. However, recent changes mean that from this month, the amount paid out by the government will decrease each month, putting more onus on the employer, while the scheme is set to come to an end entirely in October.
Pubs took another blow earlier this month when First Minister Nicola Sturgeon announced that music should be turned off and televisions put on mute in an effort to stop customers having to shout to make themselves heard, which is believed could spread the virus.
Paul Togneri, spokesman for the Scottish Beer and Pubs Association, warns that until a vaccine is found and hospitality can return to normal, many of Scotland's small pubs would struggle to remain in business.
He says: "It is not going to be too long – probably over the next few months, especially when the furlough scheme ends – that this will come to a head. They are all going to be different, but it is hard to see there not being any full-time closures as a result of this.
"It all depends on when we get a vaccine and that is one of the biggest factors. It is about how many premises survive this and come out of the whole thing. If it's going to be next year, then a lot of these places might struggle."
He points to well-known bars such as Sandy Bell's on Edinburgh's Forrest Road, which has not re-opened since lockdown restrictions were lifted in July.
He says: "It is essentially a corridor. It's really hard to see how it could open with social distancing."
Sandy Bell's owner, Steve Hannah, took out a government-backed "bounce back loan" from his bank, which he hopes will keep him afloat for another few months without opening.
He is still paying out rent for the building, though at half the usual rate – this costs him £734 a week.
"We rely on folk music, seven days a week, and the place packed out with people standing. We need 60 or so people in every night, just to break even," he says.
"Now, we're not even allowed music at all and the pub is tiny, I've just got two tables in the front, so it would be almost impossible.
"I always tell people when they complain about the price of a pint that they have no idea what it costs to run a pub and how much turnover we need just to break even."
He plans to stay closed for another couple of months, but says he will get to a point where he has to open no matter what, to claw back a small amount of his outgoings. He is,
however, not optimistic. He says: "Anyone I've spoken to who has been to pubs in town says there's no atmosphere, no music and people can't talk to each other – there's more atmosphere at home."
The problem has disproportionately affected historical pubs in old buildings, where the layout makes it difficult to social distance, with Scotland's cities particularly hard-hit.
"A lot of the rural pubs have more space, so it is not such an issue," says Paul Waterston, spokesman for the Scottish Licensed Trade Association (SLTA).However, he warned that even before the pandemic hit, two traditional pubs a week were closing their doors in Scotland.
He says: "When I am asked the question about the future of this type of pub, it begs the question, 'Is there a future?'
"We are talking about small, traditional places, often in historic buildings and with no outside area, which are the most vulnerable. These places are small and under Covid regulations, it is impossible for them to open with social distancing, so many of them remain closed."
He says that the traditional pub had been hit with a constant tsunami of challenges over the past 15 years – including the smoking ban in 2006, tighter drink-drive laws and economic downturns.
He says: "It feels like every time it seems like things are just getting better, another obstacle comes along.
"It is difficult for people to understand that running a pub is a way of life. These people are not going to make a fortune, but they provide a service to the community and it is a very important one.
"For a lot of people, when their local pub has closed, they lose that sense of community and their social connections and end up drinking at home."
He added that the loss of small bars would also be a blow to the tourism industry.
"If you go into a coffee shop and someone comes up to you and starts speaking to you, you'd get a fright," he said. "In a pub, people expect that. For foreign visitors particularly, they are the greatest tourist centres you can get. This is what we will lose."
The financial effect of continued closure has led many pubs to make the decision to close their doors permanently.In Dunfermline, popular bar the Creepy Wee Pub announced in July that it would close. Leaseholder Chloe Elliot told a local paper that the numbers made it impossible to sustain the business with no end to social distancing in sight."We did a risk assessment at the start of lockdown and if two-metre social distancing was put in place, we'd be able to have six people inside," she said."If it was one-metre distancing, we'd be able to have 12. Our usual capacity is 60, so we'd be running at a financial loss. We would need 12 people in all the time from morning to night to make it viable. The outgoing costs to make the pub Covid-19 secure would be £1,000 to £2,000."
A few pubs which initially believed they would have to close have managed to come up with innovative ways of adding more capacity. Steve Latto, who owns The Criterion pub in
St Andrews, warned publicly in July that he could not see any way that he could reopen due to the small size of the pub. However, working with a neighbouring cafe, he subsequently lobbied Fife Council to allow on-street parking spaces to be turned into space for outdoor tables.
"Without that, we simply could not have opened," he says now. "That was the absolute saviour. Without that, we would have stayed closed."
The pub is now running at about 60 per cent capacity – including the outdoor tables – and at 55 per cent turnover of the same time last year. However, his costs are higher.
"We have increased cleaning costs, more staff on as we have table service only and PPE," he says. "The bar would usually be rammed packed, but we don't live in that age anymore, so we have no-one sitting at the bar or standing up, which reduces income."
In Glasgow, Jinty McGuinty's Irish Bar in the city's West End has a large beer garden, but a tiny pub – and safe socially-distanced access to the garden is difficult.
"The access to the garden is impossible," says general manager Caroline Wright. "Also, we can't run a business from a beer garden, not in Scotland when the weather is so unpredictable.
"We can't open with a third of capacity, especially when we can't have our live music nights.
"We don't do very much food at all. We're not really a restaurant, so we need to operate just as a pub which just isn't possible at all at the moment. I think if we opened, it would kill us financially.
"When I drive around, I see a lot of pubs which are still closed, even the bigger ones. For everyone, it's just a question of capacity versus the financial side of things.
"I just hope people stay sensible and we get there a bit quicker and fingers crossed we'll be back to normal next year."
A message from the Editor:Thank you for reading this story on our website. While I have your attention, I also have an important request to make of you.With the coronavirus lockdown having a major impact on many of our advertisers - and consequently the revenue we receive - we are more reliant than ever on you taking out a digital subscription.Subscribe to scotsman.com and enjoy unlimited access to Scottish news and information online and on our app. With a digital subscription, you can read more than 5 articles, see fewer ads, enjoy faster load times, and get access to exclusive newsletters and content. Visit https://www.scotsman.com/subscriptions now to sign up.
Our journalism costs money and we rely on advertising, print and digital revenues to help to support them. By supporting us, we are able to support you in providing trusted, fact-checked content for this website.