Indonesia plane crash: what happened to Boeing 737 that crashed near Jakarta and who are the victims?
Search and Rescue teams are continuing the search for the 62 passengers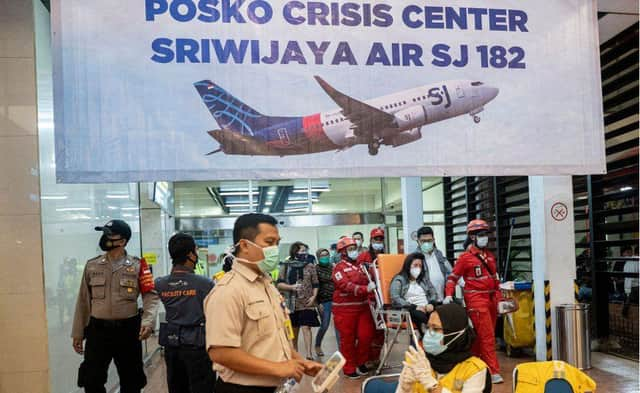 All 62 passengers and crew are believed to have died.
Some bodies have been recovered, and Indonesia's National Search and Rescue Agency team continues to search for more.
The plane's black boxes have also been found and should provide some answers as to what went wrong.
This is what we know so far.
Where was the plane intending to fly to?
The plane departed from Jakarta's Soekarno-Hatta International Airport at 2.36pm local time on Saturday 9 January, towards the city of Pontianak, but lost contact at 2:40pm..
It had only been travelling for four minutes and had flown just over 11 nautical miles when it crashed.
The flight was supposed to take 90 minutes to reach its destination of Pontianak, in West Kalimantan province, Borneo.
Before take off,there appears to have been no concerns over the safety of the jet, which was carrying 43 adult passengers, 7 children and 12 crew members.
It has not yet been confirmed how the crash happened, but debris from the crash site has been recovered, as well as some bodies.
The black boxes which hold the flight data recorder and cockpit voice recorder, were located in the sea on Sunday, 10 January.
They were due to be retrieved on Monday, 11 January but technical difficulties with the location device has caused delays to the recovery mission.
The 26-year-old jet had been in good condition, according to Sriwijaya Air chief executive Jefferson Irwin Jauwena, but the flight was delayed by 30 minutes due to heavy rainfall.
Head of the search, Air Marshal Bagus Puruhito, has said that the captain, an ex-indonesian air force pilot, did not send any distress signal prior to the plane plummeting 3,000m (around 10,000 feet) into water just off the coast of Jakarta.
Witnesses near the coast said they heard at least one explosion prior to the crash, according to BBC Indonesia.
Who was on board the passenger jet?
All 62 passengers were Indonesian, according to officials.
The pilot, Afwan, has been described as a devout Muslim and a "very good man" "well-known for his kindness," by his nephew Ferza Mahardhika.
On 11 January, officials confirmed that the first victim of the crash – 29-year-old air hostess, Okky Bisma, who had been working on the flight.
Among the passengers was a young family of five, including father Rizki Wahyudi, his 26-year-old wife, Indah Halimah Putri, and their seven month old son, as well as Wahyudi's mother and cousin who have not been named.
A pregnant mother, Ratih Windania, her two-year-old daughter, Yumna, and her nephew, uncle and aunt were also on board.
A new father, 29-year-old Angga Fernanda, whose son was born just one week ago is also believed to have died. The merchant seaman had been flying to Pontianak for work, as his ship had been damaged.
Agus Minarni and Muhammad Nur Kholifatul Amin, a married couple who had been attending the funeral of Amin's father and visiting their son at boarding school in Jakarta are thought to have died in the tragedy.
They had been due to fly back to their home in Mempawah, in Indonesian Borneo, on January 5 but were postponed because they couldn't show a negative coronavirus test.
Instead, they had boarded the 737-500 jet on 9 January, according to relatives.
Bodies were recovered from the water in the first 48 hours following the crash, along with another large bag which contained some of the passengers suitcases and holding luggage.
On Sunday, 10 January, families of those believed to have been on board gathered at the victim identification centre in Jakarta and at a crisis center in Pontianak.
They have now been asked to provide DNA, which should help identify their loved ones.
At present, no bodies have been formally identified, though the flight records will provide evidence of those who boarded the aircraft.