How true community spirit is returning to Britain – Bill Jamieson
With street singalongs, neighbour helping neighbour, local food markets and the like, the lockdown is helping us rediscover a genuine sense of community, writes Bill Jamieson.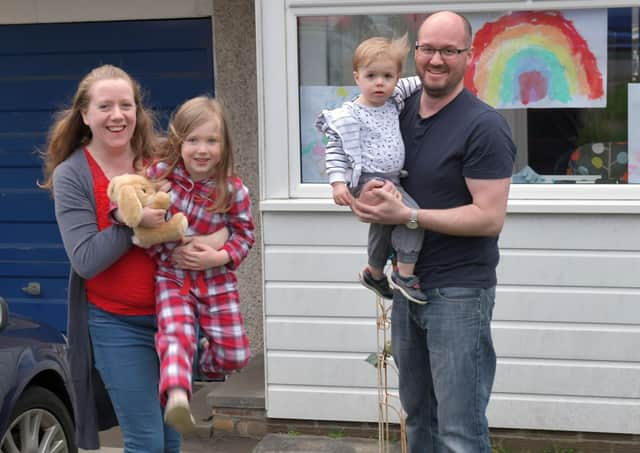 Residents of Banknock, near Falkirk, gather on their doorsteps at 7pm to sing Reach for the Stars (Picture: Michael Gillen)
Few words have been more used and abused in recent years than "community". It seemed to be a mandatory addition to any and every group or locality, irrespective of diversity of composition or whether any genuine 'community' existed.
But in the past few weeks, there has been a surge in genuine community action in response to the coronavirus pandemic. Neighbours helping with shopping and food deliveries, mobile food vans serving villages with elderly populations, street singalongs and entertainment, more than three-quarters of a million people stepping forward to offer help as volunteers – and the rising, exuberant sound of saucepan lids being banged together in hundreds of towns and villages to show thanks for those working in the frontline of this national emergency.
On top of the now thrice weekly arrival of food vans in the village square, I notice more restaurants are now whizzing around by van and bike, offering hot meals delivered at the door. And our local garden centre – having been given two flatly contradictory sets of instructions from officials as to whether they could or could not open – has now started up a click-and-collect operation.
It was advertised in the local paper last week – more than ever a vital source of local news. While the website is somewhat rickety and rudimentary, there is phone hotline with a live human voice at the other end offering help.
I used it last Saturday to order some roses, compost and bedding plants. They were duly trundled by trolley as close as possible to the car and I was heartened to see the start of queues after being in operation barely a day. Now the village jungle drums are beating and it is proving hugely popular with the gardening oldies.
So many of these localised services are proving so popular I do hope these local village food markets will survive as a permanent feature. Great for the villagers – and a promising new outlet for local farmers and growers. We may fret over global supply chains, but the ones extending a few miles to our local communities are proving real lifelines. Long may they continue.
Want to join the conversation? Please or to comment on this article.